FIT FOR A KING release heavy-hitting single 'God of Fire', taken from the new album, 'The Path', out on September 18th!
Metalcore heavyweights Fit For A King, who earlier this week announced their new album The Path (released via Solid State Records on September 18, 2020), have dropped a high-voltage new single. 'God of Fire' showcases the band's ferocious breakdowns and lyrical courage, diving into the type of theology that values fear over love, a misrepresentation of the hope and salvation that is central to FFAK's faith.
"'God of Fire' is a song about religious leaders who instead preach a message of love, use the fear of hell and condemnation to advance their own personal morality or translations of scripture," shares frontman Ryan Kirby on the message behind today's release. "They essentially turn a God of love and mercy, into a God of fire."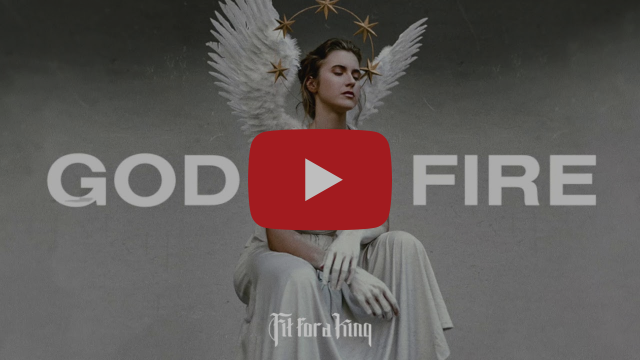 FIT FOR A KING – 'God of Fire'
'God of Fire' joins 'Breaking The Mirror' is the second single from the band's forthcoming sixth album The Path due out via Solid State Records on September 18, 2020. Bigger, bolder and overwhelmingly epic in scope, The Path leans harder on the "metal" side of their sound, with shredding guitar solos, while doubling down on the massive catchy choruses that propelled their fiercest fan-favourite anthems.

"In the past, we have dove into some pretty dark areas of life, with Dark Skies being the pinnacle of hopelessness," shares front man Ryan Kirby on the forthcoming album. "With 'The Path' we find our way out, and claim victory over the demons we have faced and are currently facing. This album is made to be the soundtrack for your victory over what mentally, and physically holds us back."
Fit For A King – 'Breaking The Mirror' (Official Lyric Video)
The Path Track Listing
1) The Face Of Hate
2) Breaking The Mirror
3) Annihilation
4) The Path
5) Prophet
6) Locked (In My Head)
7) God Of Fire
8) Stockholm
9) Louder Voice
While so many bands exploded onto the scene with supercharged "hype," only to burn out and fade away just as quickly, FIT FOR A KING steadily built a ferociously dedicated following through determination, classic American Metalcore breakdowns, lyrical courage, and steadfast conviction.
The heaviest and catchiest extreme metal act from the Lone Star State since the original cowboys from hell, FIT FOR A KING's ascendance is demonstrated as much by the massive singalongs at their shows as their jaw-dropping online following.
Where Deathgrip and Dark Skies spoke to raw feelings of alienation, abandonment, and disillusionment, this new record is focused on The Path out of those hells. FIT FOR A KING has become the very soundtrack for fighting through life's most painful and difficult seasons.
The Path is the sound of victory, championing perseverance over divisiveness, boundless optimism over anxiety and depression. FIT FOR A KING stand for triumph over adversity. This music is the soundtrack for those who muster the strength to carry on, to achieve, to overcome all obstacles.
LINEUP 
Ryan Kirby – Vocals
Bobby Lynge – Guitar
Daniel Gailey – Guitar
Jared Easterling – Drums
Ryan "Tuck" O'Leary – Bass/Vocals