TOMORROW'S GHOSTS FESTIVAL
ANNOUNCE FRIDAY NIGHT HEADLINER:
FIELDS OF THE NEPHILIM
THE GOTH-ROCK ORIGINALS JOIN THE 2022 LINE-UP ALSO FEATURING:
Very Special Guests
GHOST DANCE + INTO A CIRCLE + BALAAM AND THE ANGEL
+
EVIL BLIZZARD PRESENT 'BLIZZOWEEN'
+ BOOTBLACKS + ALL MY THORNS
WITH MORE TBA
@ Whitby Pavilion, Whitby 
Friday 28th October – Sunday 30th October 2022
As tickets go on sale today (26 November), TOMORROW'S GHOSTS FESTIVAL 2022 are pleased to announce their Friday night headliner….
FIELDS OF THE NEPHILIM 
Already shaping-up to be a vintage year, Friday 28th October 2022 will be crowned by a set from the original goth rock messiahs. Formed in Stevenage, Hertfordshire in 1984, Fields of the Nephilim have become goth scene trailblazers and die-hards to the cause ever since.
Immediately turning heads with their definitive "dust and death" image, the band also possessed a secret weapon in founding member Carl McCoy. Fronting the band with some of the recognisably ravaged vocals of the genre, McCoy and co. released their debut single "Power" in 1986 via the Beggars Banquet label and would rapidly ascend through the ranks with compositions which incorporated psychedelic, progressive, and heavy metal elements that would defy the naysayers time and time again.
With the assistance of a revolving line-up of members over the years, Fields of the Nephilim pushed the goth sound (and look) to boundary-pushing new stratospheres. Finding Indie Chart topping success with their first two albums 'Dawnrazor' (1987) and 'The Nephilim' (1988), the band's magnetic, macabre appeal would also see them break into the mainstream on the back of hit singles including "Moonchild", "Psychonaut" and "Summerland" all of which stormed into the Official UK Charts Top 40). Releasing a string of seminal albums between 1987 and 1991 ("Dawnrazor",  'The Nephilim', 'Elizium' and 'Earth Inferno'), of which the latter three would become Top 40 smashes in the Official Charts; creating a legacy that is all but immortal in the eyes of their dedicated followers.
Splitting shortly after the release of 'Earth Inferno', the band officially reformed as Fields of the Nephilim in 1998 with original members Tony Petit and Carl McCoy leading the charge. Steadily releasing new material such as the singles "One More Nightmare (Trees Come Down A.D.)" (2000), "From the Fire" (2002) and most recently "Prophecy" in 2016, FOTN have continued to play established venues and festivals across Europe to an undyingly loyal fanbase ever since.
Headlining the Friday night at Whitby Pavilion, Tomorrow's Ghosts is overwhelmed to have the band back to the UK's gothic mecca in 2022. This is guaranteed to be an unmissable headline performance from one of Goth's most significant artists.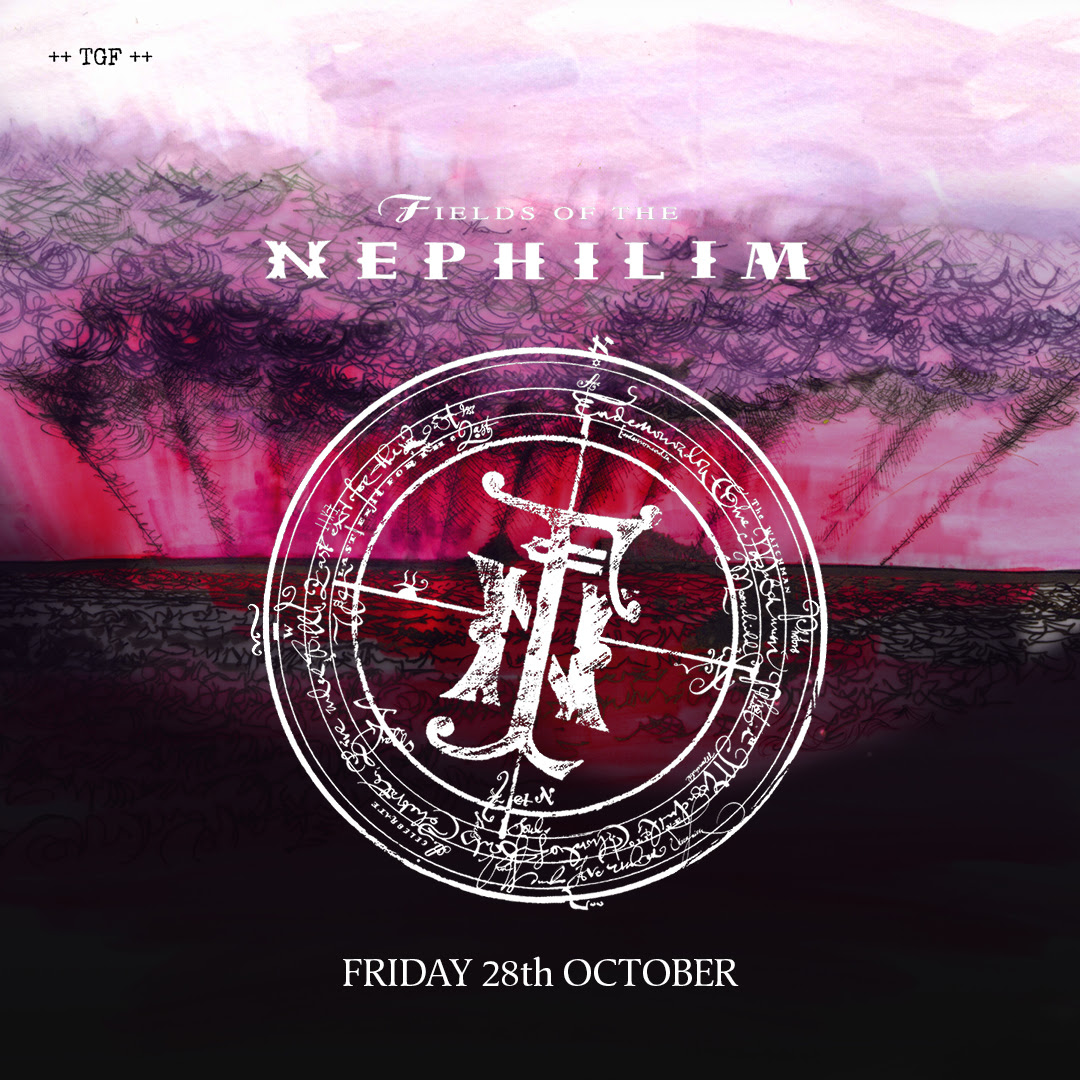 PREVIOUSLY ANNOUNCED
FOTN will join a line up of incredible acts already confirmed to be appearing at Whitby's premier gothic and alternative arts festival. Alluring artists from across Europe & the USA, previously announced acts for the 2022 event include very special guests Into A Circle, Ghost Dance, and Balaam And The Angel, as well as exclusive performances from Bootblacks, All My Thorns, AND Evil Blizzard present… 'Blizzoween'.
Very special Saturday night headliners are to be announced in due course….
TOMORROW'S GHOSTS FESTIVAL 2022
The only festival unafraid to paint the town black, Tomorrow's Ghosts Festival will return to Whitby for Halloween 2022. The ultimate celebration of all things Gothic and alternative, the festival will return to its spiritual home between Friday 29th to Sunday 30th October 2022. A weekend that relishes in the darkest of arts, from music to markets, performance to literature, and so much more, the festival remains central to the wider events taking place across the town, the official birthplace of Dracula for what will be its fifth year.
Dabbling in the dark arts to provide one of the most unique festival experiences in the country, expect diverse performances and surreal happenings aplenty when Tomorrows Ghosts returns on Halloween weekend 2022.
* * * * *
BRAM STOKER 
With a full line up of artists either announced or being planned for 2022, Tomorrow's Ghosts Festival is excited to report that it is in advanced discussions with the Bram Stoker Estate in the UK and America to agree a partnership to explore the enormous legacy of Bram Stoker and how this can become part of the Festival in Whitby in the near future. Both parties hope to announce further details in the coming weeks.
* * * * *
TICKETS
Tickets for Tomorrow's Ghosts Festival are on general sale from Friday 26th November at 10:00am. Links and prices are as follows:
Friday Night Tickets – 28th October 2022– £38.00 Advance STBF
General Sale: https://bit.ly/3l2LRlS
Saturday Night Tickets – 29th October 2022 – £38.00 Advance STBF
General Sale: https://bit.ly/3xiOMMd
Weekend Tickets – Friday 28th & Saturday 29th October 2022 – £70.00 Advance STBF
General Sale: https://bit.ly/3r6EjTg
 * * * * *
ADDITIONAL INFORMATION:
Established in 2018, Tomorrow's Ghosts Festival takes place annually at The Pavilion in Whitby (UK). A celebration of all things Gothic that also embraces a wide range of alternative culture, the festival aims to host both established and up and coming bands to reflect the diversity of the goth and alternative music scene as well as similar highlights from the mediums of film, art, guest appearances and theatre. Previous editions have hosted acts including Wayne Hussey & The Divine, Peter Hook & The Light, New Model Army, Paradise Lost, Fields of the Nephilim, Pop Will Eat Itself, The Chameleons, Pink Turns Blue, Salvation, Evi Vine, The Membranes, The Eden House, Sometime The Wolf, The Society, Terminal Gods, Sweet Ermengarde Saigon Blue Rain, Christine Plays Viola, Mercury's Antennae and Clan of Xymox.
Ages 8+
Under 14s to be accompanied by an adult over the age of 18 at all times.
Over 18s only for after show club night events.
* * * * *
LINE UP SO FAR 
Friday October 28th 2022
Headliner – Fields of the Nephilim
Special Guests – Ghost Dance
Evil Blizzard present Blizzoween
Bootblacks
Saturday October 29th 2022
HEADLINERS – TBA
Special Guests – Into a Circle
Very Special Guests – Balaam And The Angel
All My Thorns
* * * * *
FOR MORE INFORMATION
w/ https://www.tomorrowsghostsfestival.co.uk
* * * * *
Fields of the Nephilim
Website – Fields of The Nephilim (fields-of-the-nephilim.com)
Facebook – (1) Fields Of The Nephilim | Facebook
Spotify – Fields Of The Nephilim | Spotify – Listen Free
Twitter – (5) Nephilim official (@FOTNofficial) / Twitter
Instagram – Fields Of The Nephilim (@fotnephilimofficial) • Instagram photos and videos
Ghost Dance
Facebook – (1) Ghost Dance | Facebook
Twitter – (5) anne marie hurst (@a_mhurst) / Twitter
Website – Ghost Dance Official – Ghost Dance, Band, Goth Band (ghost-dance.co.uk)
Instagram – Anne Marie Hurst (@a.mhurst) • Instagram photos and videos
Into A Circle
Facebook – Into A Circle | Facebook
Twitter – (5) beefuton (@beefuton) / Twitter
Website – Music | Into a Circle (bandcamp.com)
Instagram –  Into a Circle (@in2a0) • Instagram photos and videos
Balaam And The Angel
Facebook – (3) Balaam and the Angel | Facebook
Website – Balaam And The Angel
Instagram – Balaam and the Angel (@balaamandtheangel) • Instagram photos and videos
Evil Blizzard
Facebook – Evil Blizzard | Facebook
Twitter – (5) Evil Blizzard (@evil_blizzard) / Twitter
Website – Unleash (evilblizzard.co.uk)
Instagram – Evil blizzard (@evilblizzpics) • Instagram photos and videos
Bootblacks
Facebook – (6) Bootblacks | Facebook
Twitter – (2) Bootblacks (@bootblacks) / Twitter
Website – BOOTBLACKS
Instagram – BOOTBLACKS (@bootblacks) • Instagram photos and videos
All My Thorns
Facebook – (3) All My Thorns | Facebook
Website – All my Thorns Store