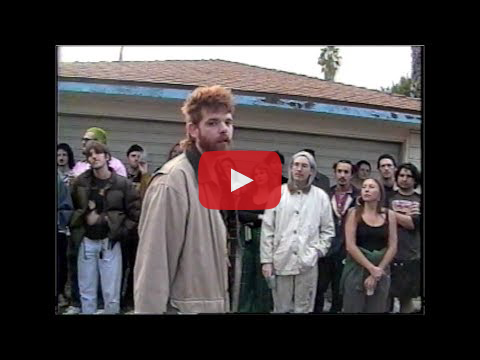 "…lovesick and lo-fi" – Paste
"Charismatic folk musician Field Medic (aka Kevin Patrick) sings plaintively about insecurity and heartbreak on 'henna tattoo'." – The Line Of Best Fit
"…speaks to a history of friendship and invaluable comfort that might be slipping into the past, all wrapped up in a simply adorable two-and-a-half-minute track." – The 405
"Patrick has become a de facto bard for the hyper-online and anxiety-plagued… undeniably infectious and darkly funny…as much heart as there is humor." – Noisey
Field Medic, the moniker of Los Angeles-based folk artist Kevin Patrick, has announced his new album 'fade into the dawn' will be released on April 19 via Run For Cover Records. He has just revealed the video for the album's first single 'henna tattoo,' a driving acoustic track recorded straight to a 4-track tape recorder backed by his boom box drum machine. The album is now available for pre-order and includes an instant download of 'henna tattoo.'
"For this music video, the label offered to hire someone to make a more 'professional' video than I've had before, but I decided instead to use a little bit of the money to buy another camcorder (my sixth) & a gigantic green screen & some lights & do it myself as I have done for the last few years," explains Patrick.
"Directing & producing music videos has always been an integral part of this project. In the beginning of 'Field Medic' I was focused more on making music video's than playing shows. The 'henna tattoo' music video is a bit more ambitious than what came before it because of the size of the cast. I wanted to finally live my dream of shooting the 'big group of people standing behind me' scene, as well as the 'girl who's an amazing dancer' scene & the 'three guys doing *very simple* choreographed dancing' scene. All those things came together thanks to the help of friends. The only part of my storyboard that had to be modified slightly was the water scenes. I envisioned myself singing underwater, but I forgot that when you lay down & go underwater it all rushes up your nose & you choke."
Watch/listen/share 'henna tattoo' via:
YouTube / Spotify
Pre-order link for 'fade into the dawn': HERE
The Line of Best Fit called 'henna tatto' "disarmingly honest" while Paste Magazine said, "…his anxious infatuation is presented as a passing, unadorned outpouring, conflicting thoughts and emotions rushed to paper, then tape, using only the implements Patrick had at hand."
Field Medic performed songs from the new album live from the Paste Magazine studios in New York, yesterday. Watch HERE.
——
'fade into the dawn' is Patrick's first proper full-length release for Run For Cover following his critically acclaimed collection 'songs from the sunroom', which received acclaim from BrooklynVegan, Noisey, Stereogum and more. The new album features ten sparse, acoustic tracks that reckon with our perceptions of success and self as they face down the inevitable complications that arise from realizing any hard-won dream.
During the recording of 'fade into the dawn', Patrick found himself going through a number of tumultuous changes: he relocated to Los Angeles from San Francisco, where he'd lived and recorded on and off for several years; he left the world of day jobs behind in order to tour year-round; and he decided to quit drinking, only to return to it halfway through a particularly grueling run of shows. It was the sort of emotional roller-coaster that he would normally work through in song, but even the simple act of writing seemed profoundly more complicated than ever before. Patrick had always written candidly about doubt and darkness and anxiety, but 'fade into the dawn' required him to dig deeper than ever before here, blending black humor and bold introspection as he weighs fantasy against reality and searches for meaning in the mundane.
Patrick writes of this process, "I had to learn to let go again, because the best songs are the ones that happen inexplicably, that feel like they come out of me almost against my will."
Field Medic's radical honesty is audible on every track of 'fade into the dawn'. The minimalist acoustic arrangements and lo-fi production aesthetic, along Patrick's cutting lyrical wit, all combine to produce an album that reflects his natural confidence as a songwriter, even as he gives himself permission to question this self-conception with each ensuing verse.
'fade into the dawn' tracklist:
1) used 2 be a romantic
2) i was wrong
3) this bottle's my lover, she's just my friend
4) henna tattoo
5) hello moon
6) tournament horseshoe
7) songs r worthless now
8) mood ring baby
9) everyday'z 2moro
10) helps me forget…
Field Medic online:
Website – Twitter – Instagram – Facebook – Bandcamp – Spotify