FAR'N'HATE DEBUTS COMPELLING VIDEO FOR BRAND NEW VIGOROUS SINGLE "PRISON OF SELF"!
Infectious alternative quartet Far'N'Hate explodes with a powerful and enthralling video for the formation's brand new single – the astounding "Prison Of Self"! Bleeding both passion and energy, the song showcases a formidable and cohesive blend and mixture of melody and intensity, which are absorbed in every aspect of the track's essence, starting from the nature of its composition's development and finishing with the instrumental proficiency, utilized throughout the process of materializing the unique song-writing vision of Far'N'Hate's members. With a continuously unfolding, unpredictable edge, "Prison Of Self" is capable of clearly showcasing its sincere essence through its soul-searching and thought-provoking nature by concentrating on providing a dynamic atmosphere, mainly supported by the track's genuine melodic approach and climactic sing-along chorus explosions, which surely should only allure the music world to the band's unique profile.
Watch the video for "Prison Of Self" by clicking on the image below.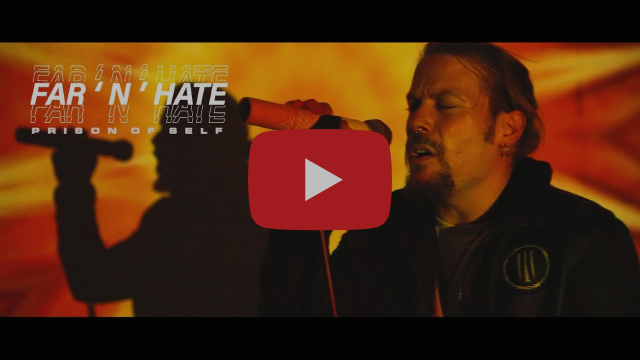 Detailing the significance of its latest work, Far'N'Hate adds: As an artist, the creative process and the raw, unfiltered expression of what resonates inside of you, can become a two-edged sword. Realizing you're being shaped and controlled by thoughts and beliefs you can barely understand at first sight, usually reveals barriers and fears you're living by. "Prison Of Self" unfolds this journey in which you confront your own demons, trying to liberate your being from those fears. This song was meant to be the first single off a new album, but we feel the time to release it is now. In a moment of such instability, change and transition like the one we're living in, realizing that fear and uncertainty are things we can fight back and overcome is one of our best weapons as society not to lose our focus".