Unbelievably we are talking about the first LP for original music from the majestic Evanescence in over a decade, a band which now feels like a lifetime ago rose to notoriety way back in 2003 when "Bring Me To Life" took the world of Rock by storm. The band off the back of this song has never really faded away despite spending as much time out of the limelight as they did in the public eye over the last two decades, and that in itself is no mean feat. Amy Lee's mark on the world of Rock cannot be understated and her impact as a powerhouse frontwoman of such a successful band will be an amazing legacy to admire for sure. 
So how does this latest offering stack up in 2021? Well, the short answer is very, very well. The Bitter Truth is a stellar album, would I say it was worth the wait? That is for you to decide, but is it worthy of the band's reputation? Absolutely! The production is sublime and this allows you to fully appreciate and immerse yourself in Lee's multi-layered vocals and envelope yourself fully in her warm blanket like tonal quality. The album flies past you in the blink of an eye, one track dissolving into another as you can barely keep up with the easy on the ear melodies as they weave their way across twelve potent tracks. 
There are a plethora of musical styles, influences and different flavours across the recording that keep you engaged throughout, hefty Rock numbers fused with Industrial and Electronic nuances meshed against the gnarly guitar work and Amy's piercing vocals make for a fierce soundscape. The balance of the band versus the overall composition of the songs themselves is to be admired as each member plays their part in ensuring that the songwriting is king here. Tracks like "Use My Voice" are a beautiful example of how easy it would have been for the subtle changes throughout and how they could have been lost but for their attention to the details in the post-production, allowing the track to breathe.
This is a mark of the maturity of the band and how they have grown to fill those big boots assigned to them following such global success. The album is dripping in such quality and without a doubt will make its mark yet again with their legion of fans. Far too long to wait for a band of this quality, the twelve tracks are all over far too soon. 
The Bitter Truth – lands today March 26th via Sony Music.
The band are due to tour Europe – dates are:
2021
Wed   8th Sept           Zurich, CH, Hallenstadion Zurich
Thu    9th Sept            Milan, IT, Mediolanum Forum Milan
Sat     11th Sept          Berlin, DE, Velodrom
Sun    12th Sept          Gliwice, PL, Arena Gliwice
Tue    14th Sept          Leipzig, DE, Quarterback Immobilien Arena
Wed  15th Sept          Hamburg, DE, Barclaycard Arena
Fri      17th Sept           Amsterdam, NL, Ziggo Dome
Sat     18th Sept          Amsterdam, NL, Ziggo Dome
Mon   20th Sept          Paris, FR, Accorhotels Arena
Tue     21st Sept          Düsseldorf, DE, Mitsubishi Electric Halle
Wed   22nd Sept         Munich, DE, Zenith
Fri       24th Sept          Esch-Sur-Alzette, LU, Rockhal
Sun     26th Sept          Frankfurt, DE, Festhalle
Mon   27th Sept          Brussels, BE, Palais 12
Tue     28th Sept          Brussels, BE, Palais 12
Thu     30th Sept         Glasgow, UK, The SSE Hydro Arena
Fri       1st Oct             Leeds, UK, First Direct Arena
Sun     3rd Oct             Birmingham, UK, Utilita Arena Birmingham
Mon   4th Oct             London, UK, The O2
Thu     7th Oct             Madrid, Spain, Palacio Vistalegre ********Evanescence ONLY
Website | Facebook | Twitter | Instagram | YouTube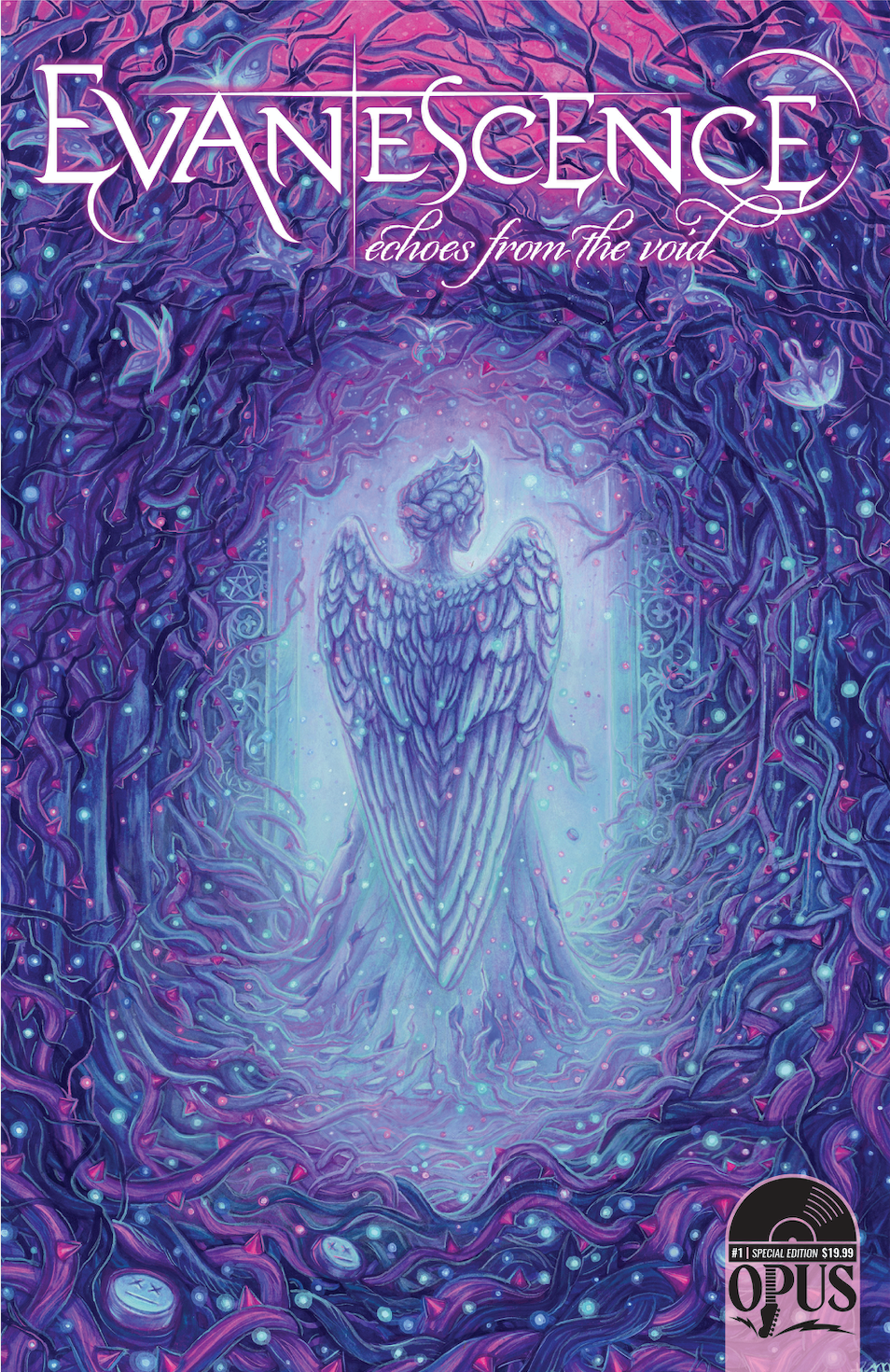 Image by Kelly McKernan                                              Image by Abigail Larson
Evanescence, Incendium And Heavy Metal Entertainment Debut 'Echoes From The Void' Graphic Anthology Series Under Opus Imprint
Fantasy series expands on themes from the upcoming Evanescence album The Bitter Truth (26 March via Sony) and explores the band's classic catalogue, including contributions from Amy Lee and Carrie Lee South.
Evanescence, Incendium, and Heavy Metal Entertainment announce the launch of Echoes from the Void, an Evanescence Graphic Anthology Series, under Incendium's all-new music-focused OPUS imprint.
Echoes from the Void is a fantasy Graphic Anthology Series, comprised of 48-page deluxe comic books, each featuring two or more story adaptations from the Evanescence catalogue. Beginning with story themes based on songs from their upcoming March 26th release The Bitter Truth (Sony), and culminating in revisiting iconic material from throughout the band's career, the project is comprised of a series of short stories created by an all-star cast of graphic artists, animators, illustrators, fine artists, screenwriters, novelists, and more.
Combining bandleader Amy Lee's love of visual arts, fantasy-inspired graphics, and graphic novels with the narrative power of Evanescence's music, the series is being developed in close collaboration with Amy as she oversees the creative direction of the art and stories. Echoes from the Void begins as a 5-issue series, with each issue containing stories based on two or more of Evanescence's songs, presented in a variety of visual styles and mediums. Issue #1, available in limited-edition, includes two stories inspired by the songs "Better Without You" and "Wasted On You," from the forthcoming Evanescence album, The Bitter Truth, with tales written by Carrie Lee South and Blake Northcott (Arena Mode saga, DC's Catwoman). The issue will feature illustrations from Hugo Award-winning artist Abigail Larson and highly-esteemed painter Kelly McKernan.
"I am so excited about this project series. The possibilities are endless. Collaborating across art forms like this is so unique, and it's been fascinating to see how many different lives a song can have, like alternate realities. I look forward to working on this throughout the year and am so honoured to break open this new world for our music" said Amy Lee.
Llexi Leon, CEO of Incendium, said: "Reflecting Evanescence's distinctive output, Echoes from the Void is equal parts haunting and whimsical; the pages are filled with beauty, loss, struggle, and triumph. It's a fantastical journey that debuts a host of original characters and imaginative worlds that have been a joy to realize, and thanks to Amy pushing the envelope with every conversation, we've been able to curate a unique body of work that defies expectations of the medium."
The first print edition of each issue will be released as a prestige format limited-edition collectible comic book, with cardstock covers, specialty foil treatments, glossy pages, and individual numbering. Each first printing will be limited to 3,000 copies priced at $18.95, and available to order HERE. The first issue is available to order now and ships in June 2021.
The art of Echoes from the Void will also be made available to purchase through a series of archival fine art prints, the first of which is illustrated by Kelly McKernan. Incorporating symbols and themes from across the band's discography into an intricate traditionally painted work that also debuts a mysterious original character, the print features a blue tint glow in the dark base with a luminous pink UV active overlay, as part of an individually numbered 500-piece collection. Kelly's print is available now HERE.
Pre-order Echoes from the Void HERE and pre-order The Bitter Truth HERE
About Evanescence:
Two-time GRAMMY® Award-winning Evanescence has made an impact on people around the world. The group's 2003 landmark debut album Fallen laid the foundation spending 43 weeks on the Billboard Top 10 and selling more than 17 million copies worldwide. Debut single and global hit "Bring Me to Life" reached #5 on the Billboard Hot 100 and marked their first U.K. #1 hit single. The equally popular "My Immortal" peaked at #7 in the U.S. and U.K. Following multiple worldwide tours, The Open Door came next, which went on to sell more than five million copies followed by the self-titled Evanescence which debuted at No. 1 on the Billboard Charts. Evanescence lead singer-songwriter and pianist Amy Lee, bassist Tim McCord, drummer Will Hunt, lead guitarist Troy McLawhorn, and guitarist and backing vocalist Jen Majura went down both very new and familiar paths for their fourth and most ambitious release to date, Synthesis, in 2017 via BMG. The symphonic effort scored four Billboard #1s, debuting atop the Independent, Alternative, Rock, and Classical Album Charts. Evanescence launched their worldwide "Synthesis Live" tour in October 2017 combining their intense live performances and timeless songwriting with a powerful live orchestra. On March 26th, Evanescence will be releasing their fourth studio album, The Bitter Truth.
Website | Facebook | Twitter | Instagram | YouTubeAbout Incendium:
Founded in 2006 Incendium is a multi-faceted production company known for an array of animation, comic books, toys, and video games. Driven by our team's passion for Myths, Monsters, and Metal the brand embraces 80s and 90s counterculture with a contemporary twist.
Website  Facebook  Twitter  Instagram
About Heavy Metal:
First published in 1977, Heavy Metal, the world's foremost illustrated fantasy magazine, explores fantastic and surrealistic worlds, alternate realities, science fiction and thriller, in the past, present and future. Writers and illustrators from around the world take you to places you never dreamed existed. Heavy Metal was the first magazine to bring European legends Moebius, Tanino Libertore, Philippe Druillet, Enki Bilal, Pepe Moreno and Philippe Caza to the U.S. as well as showcasing American superstars Richard Corben, Jim Steranko and Bernie Wrightson. The magazine continues to showcase amazing new talent as well as allow established creators to have "carte blanche". Heavy Metal Magazine is now published 12 times per year. Most issues feature one or two serialized graphic novels, several short stories, and two artist galleries. Recent featured creators include Grant Morrison, Stephen King, and Bart Sears. With new CEO Matt Medney at the helm, Heavy Metal promises to boldly go where no magazine has gone before. Explore ancient secrets, forgotten worlds and savage futures…experience Heavy Metal.
Evanescence // The Bitter Truth // Album Review