DREAM NAILS SIGN TO MARSHALL RECORDS
AND ANNOUNCE NEW ALBUM 'DOOM LOOP'
SET FOR RELEASE OCTOBER 13TH 2023
AND RELEASE NEW SINGLE 'GOOD GUY'
Queer punk collective DREAM NAILS –Freshly signed to respected Indie, Marshall Records– has today announced their highly anticipated sophomore record 'DOOM LOOP,' set for release October 13th 2023. The announcement is accompanied by the release of their brand-new video for 'GOOD GUY' which sees the band shine a light on toxic masculinity, which is not just about a few rotten apples, but the "whole damn tree".
Fans can pre-order the album, 'DOOM LOOP' – HERE and stream check out the video for new single, 'GOOD GUY' – HERE.
DREAM NAILS' introspective and vibrant masterpiece ­– produced by the infamous Ross Orton, who has worked with the likes of Arctic Monkeys, Amyl and The Sniffers, and The Fall– reflects a passionate fight for empathy in a divided world. 'DOOM LOOP' is an album that courageously delves into the repeated cycles that shape our existence: from relentless acts of social injustice; the pervasive influence of patriarchal systems that offer nothing but oppression, and the violent death grips of outdated constructs.
'DOOM LOOP' celebrates the strength and resilience of diverse identities, narrating stories of butch and trans masculine experiences alike, while highlighting our shared responsibility in combating misogyny as a global community.
"Doom Loop is an exploration of the repeated cycles we find ourselves in," comments vocalist Ishmael Kirby, "from political injustice and patriarchal systems to the negative spirals of our minds. A doom loop is a crisis that starts to feed on itself. It feels like there is no escape. But there is. This album is a reflection of ourselves, the world we live in, and the one we want to create."
"Specifically, Doom Loop delves into masculinity in its many forms" expands drummer Lucy Katz. "The good guy, the lads at school, the narcissistic politician, the incel, the sexual predator, the police officer. It looks into gender-based oppression from childhood; how isolation can breed violence against women and the rhetoric that spawns incels."
Elaborating on the themes, guitarist Anya Pearson adds: "On the album we also celebrate masculinity by telling stories about butch and trans masculine identities. We show the shared responsibility we have in fighting misogyny. Empathy is hard to find in a divided world, but we seek it out, advocate for it, and ask how far it goes."
The title of DREAM NAILS' riotous new single 'GOOD GUY,' highlights the phrase as a fake ID used to lull people into a false sense of security. "It's as if we couldn't possibly believe there could be danger if someone describes themselves as the good guy." says Ishmael. "It reinforces that gender-based violence and attacks are one-off occurrences, denying our lived experiences as women and non-binary people."
Bassist Mimi Jasson recounts: "Incel terrorist Elliot Rodger killed six people in a stabbing and shooting spree in California in 2014. The final section of his manifesto, where the 22-year-old complained about not being able to get a girlfriend, Rodger declared 'I am the true victim in all of this. I am the good guy'"
CLICK THE IMAGE BELOW TO CHECK OUT 'GOOD GUY'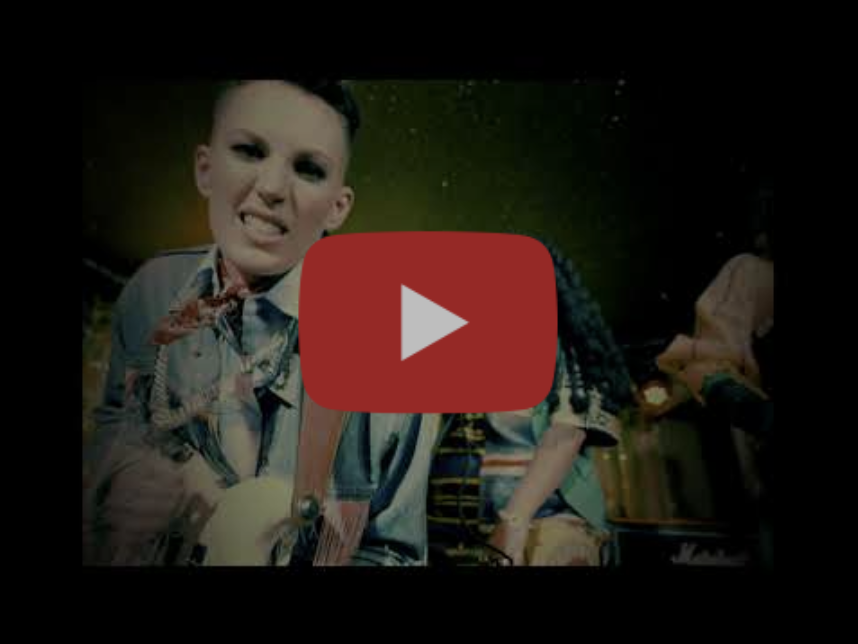 MORE ON DREAM NAILS AND 'DOOM LOOP'.
Welcome to the (r)evolution of Dream Nails. Born from a chaotic mix of run-ins at drag shows and shared friendships, Dream Nails have established themselves as a political ecosystem, a safe haven, "for trans and queer people and their allies who love punk music".
An all-queer political punk collective made up of members Anya Pearson, Lucy Katz, Mimi Jasson and new frontman Ishmael Kirby, the band have burst forth from their DIY roots to newly sign with Marshall Records, bringing forward a reborn image of Dream Nails with music we can all find ourselves in.
What Dream Nails seek out is greater than idealistic, punchy anthems. Instead, they want their music to inspire change, action, and hope. They have spent the last few years reflecting on their communal roots and driven dream of "making the world a better place" and sharing a message they truly believe in.
While fateful connections may have brought Dream Nails together, their shared ambition to disrupt society's ongoing "doom loop" was plenty to keep them vocally protesting side by side. Together, Dream Nails has become a political statement as much as a creative endeavour. In the sanctity of their soundscape, the band have fused their motivation to kick-start change with a want to be joyfully rebellious. Instead of dropping anthems fuelled by justifiable rage and upset, the band have realigned their mission, as creative observers, to deliver hope to marginalised and misunderstood communities. In a world actively divided, Dream Nails are seeking out "common ground" in music to express their vision of queer euphoria, trans liberation, and shared humanity.
With almost three years since their debut self-titled release, Dream Nails aren't changing route, but broadening their appeal. In their slick, humoured new album, produced by Ross Orton (Arctic Monkeys, Amyl and The Sniffers) the band tackle everything from incel culture to rewriting the available images of trans masculinity. It's concise, powerful, and refreshingly disruptive. Dream Nails surfaced from a Sister's Uncut protest in 2015 and their political tact remains prevalent as ever. But, now, with the added zing of lead singer Ishmael, the band have pushed their politics to new heights.
Dream Nails fall in line with a much-needed space for pro-LGBTQ+ politics. For fans of Bikini Kill, Amyl and the Sniffers and label mates Nova Twins (with whom the band have toured extensively). Dream Nails are aware of their duty to educate as well as create great bangers for the dance floor (and moshpit). "Our music and live shows are an act of service; they're galvanising as well as entertaining and playful. It's a responsibility that we don't take lightly" Lucy says.
Gearing up to their next step, the band want to share their music (and their message) as far as it can go. Eager to "get into new spaces", the punk collective want to take on the US and the breadth of the UK and Europe. But, alongside that, Dream Nails are ready to give back. They're currently working on community projects with LGBTQ+ youth and young musicians in disadvantaged areas of the UK to make the music industry more accessible. Community and collectivity are at the heart of the band and for good reason: "Our existence is intersectional therefore our politics is going to be intersectional." In short, Dream Nails want to become "the biggest political band in the world" — and there's no reason they shouldn't be.
'DOOM LOOP,' set for release October 13th 2023 via Marshall records. Pre-order – HERE
–
'DOOM LOOP' TRACK LISTING
Good Guy
Case Dismissed
Geraniums
Prevenge
Monster
Sometimes I do Get Lonely, Yeah
She's Cutting My Hair
Femme Boi
Ballpit
Time Ain't No Healer
Credit: Holly Whittaker @hollywhittaker
Dream Nails:
Anya Pearson (she/her) – Guitar, Mimi Jasson (she/her) – Bass, Ishmael Kirby (he/they) – Vocals, Lucy Katz (she/her) – Drums
–
2023 Tour Dates
September
02 Copenhagen, DK – Luna Riot Ball
08 Birmingham – The Rainbow
October
15 Cambridge – Cambridge Junction
26 Glasgow – McChiulls
27 Manchester – Canvas
November
02 Nottingham – Bodega
03 Bristol – Rough Trade
04 London – Omeara
24 Paris – L'International
25 Baden, DE – Werkk Kulturlokal
26 Bern, CH – Rossli Bar
28 Koln, DE – Blue Shell
29 Hamburg, DE – Hafenklang
30 Berlin, DE – Schokoladen
December
01 Langenberg, DE – KGB
03 Munster, DE – LWL Museum
06 Rotterdam, NL – V11
07 Antwerp, BE – Trix
08 Amsterdam, NL – Cinetol
–
–
CONNECT WITH THE BAND