Desert Rockers BLUE HERON Prepare to Release First Full Album Ephemeral
New Mexico stoner metal outfit to issue new LP via Seeing Red Records and Kozmik Artifactz on May 27th, with first single "Futurola" now streaming on digital platforms and via 666MrDoom
Cover Art by Mirkow Gastow
New Mexico desert rockers Blue Heron will release their first full-length album, Ephemeral, via Seeing Red Records (US) and Kozmik Artifactz (Germany) on May 27th, 2022.  The album's first single, "Futurola" is now streaming on digital services, along with an interpretive animated video hosted by 666MrDoom.
Ephemeral is an 8-track, 47-minute exploration of heavy rock at its fullest.  Excavating the far reaches and connected strata of stoner rock, sludge, doom, heavy psych and post-metal, Blue Heron transmute years of engagement with rock and metal's profuse branches into a singular, sand-scorching epic.  With lyrical threads ranging from mortality and failed civilizations to mythic fables and cinematic re-imaginations, Ephemeral is stylistically diverse, thematically ambitious and unassailably relentless in its raw, desert power.
Ephemeral arrives May 27th, 2022 on limited edition vinyl from Seeing Red Records in North America and Kozmik Artifactz in Europe and on all digital services.
Preorders are available now via the labels and the Blue Heron Bandcamp.
Blue Heron will perform at Ripplefest Texas this July alongside scene heavyweights including Crowbar, Big Business, The Sword, Heavy Temple, Howling Giant and Eagles of Death Metal.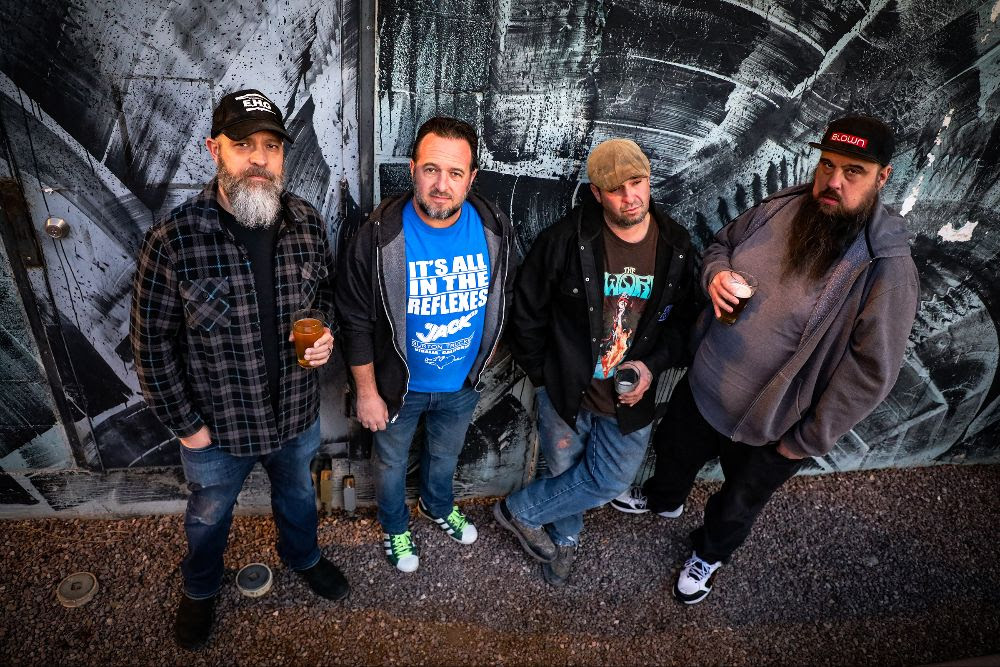 Photo by JT Schmidlapp
Blue Heron is a heavy rock band from Albuquerque, New Mexico, whose firsthand relationship with the desert is inextricable from who they are and how they sound.  Even as bands across the planet blast out their versions of heavy, fuzz-driven rock driven by an almost mystical fascination with the desert, Blue Heron embody the concept of "desert rock" to its core.
Blue Heron's guitarist and singer were the founding members of Spiritu, possibly Albuquerque's first desert rock band, who burned briefly yet brightly with a Jack Endino-produced debut LP, a European tour with Clutch, Spiritual Beggars and Dozer, and a compilation slot alongside Entombed and Mastodon.
Re-constituting this core in 2018, Blue Heron coalesced around a compulsion to fill the wide New Mexico skies with massive volume, and saturate their piece of desert with rolling, thunderous riffs, drums that pummel and swing, deep, thrumming tones and vocals that rip and roar.
On December 3rd, 2021, Blue Heron self-released their Black Blood of the Earth EP, the same month contributing a track to Magnetic Eye Records' Best of AC/DC [Redux] alongside Kryptograf, Kal-El, Supersuckers, Domkraft and more.
Of the EP, The Big Takeover said, "Blue Heron hit the sweet spot at the center of a vortex around which swirls sensual stoner doom, thuggish heavy blues and bad trip psychedelia," and Real Gone Rocks called Black Blood of the Earth, "an instantly classic slab of stoner."