DEFYING DECAY
RELEASE NEW SINGLE AND MUSIC VIDEO FOR
'SYSTEM OF SINNERS'
UK TOUR WITH ICE NINE KILLS STARTS NEXT WEEK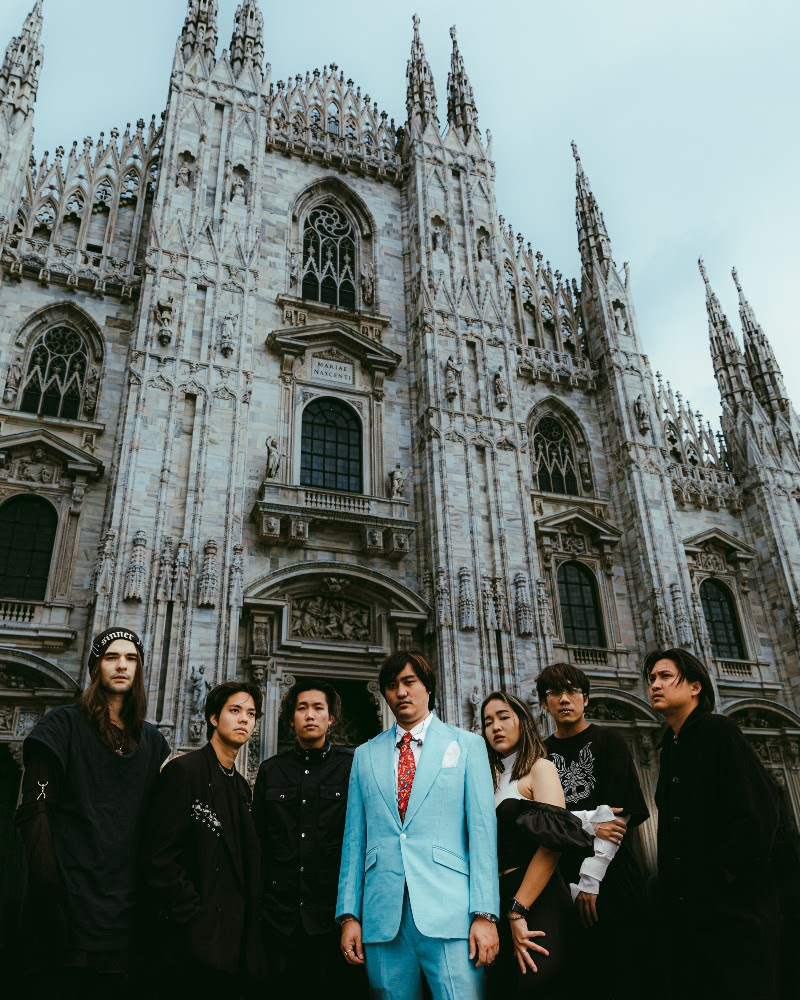 Band Photo: DEFYING DECAY
Boundary-breaking Thai alt-metal outfit DEFYING DECAY have returned with the release of their new single 'System of Sinners' ahead of their UK tour with slashercore overlords Ice Nine Kills. Mixed by Zakk Cervini (Bring Me The Horizon, Blink-182, Yungblud), and available in Dolby Atmos, the track is the second to be released from their new album, due later this year.
Watch the music video to 'System of Sinners' here.
Stream 'System of Sinners' here.
On the new single, vocalist and guitarist Jay Euarchukiati comments:
"We live in a world designed by few people where ordinary people are unwilling participants. 'System of Sinners' is the blatant anarchistic anthem not meant to be revolutionary or thought-provoking. It is meant to be a pebble creating capillary waves in the pool of growing sentiment towards more free speech-based music. We are proud to be Thai representing musicians who can share unfiltered messages in our music and we will continue to do so."
The new single follows on from the previously released fight-club style music video for '21 Stitches'.
DEFYING DECAY – 'System of Sinners'
Thai metallers DEFYING DECAY was formed in Bangkok, Thailand in 2010 and have been garnering plenty of praise for their heavy and melodic sound that includes ambient electronics and soaring melodies. After releasing their jaw-dropping, establishment-challenging rebellious anthem 'The Law 112', the band is about to serve their next starter of their new album with the single '21 Stitches'. The track is mixed by Zakk Cervini, the sonic mastermind behind top-charts acts like Bring Me The Horizon, Blink-182 and Yungblud, and is also available in the Dolby-Atmos. The title conveys the tribute by lead singer Jay to Linkin Park in his own "Fight Club" infused narrative.
With a boutique market for its brand of alternative metal in its home country, the seven-member band springs on touring overseas. Throughout the years, they are seen on the road with bands like Motionless In White, Emmure, Betraying the Martyrs, Crown The Empire, and Atreyu, enabled them to pave the way of growing their own fanbase across the globe, through their own authentic narrative of their journey as the alt-metal outfit of Thailand. Soon they will be on the road again, with Saosin on their long-anticipated Asia tour since 2010, and Indonesia's heavy rock carnival Hammersonic Festival, and the honour of opening for their heroic act Trivium at their home.
DEFYING DECAY – 'System of Sinners'
Single Artwork – Dan Barkle
Band Members: 
Jay Poom Euarchukiati – vocals, guitars
Ponn – guitars
Søng Chitipat – guitars
Jennie Natanich Bunsila – keys, synth
Mark Mironov – drums
Bunnbnnn – turntable, samples
Itthiphol Pleng Thongboonma – bassSocial Media Links:
Facebook || Instagram || Twitter || YouTube