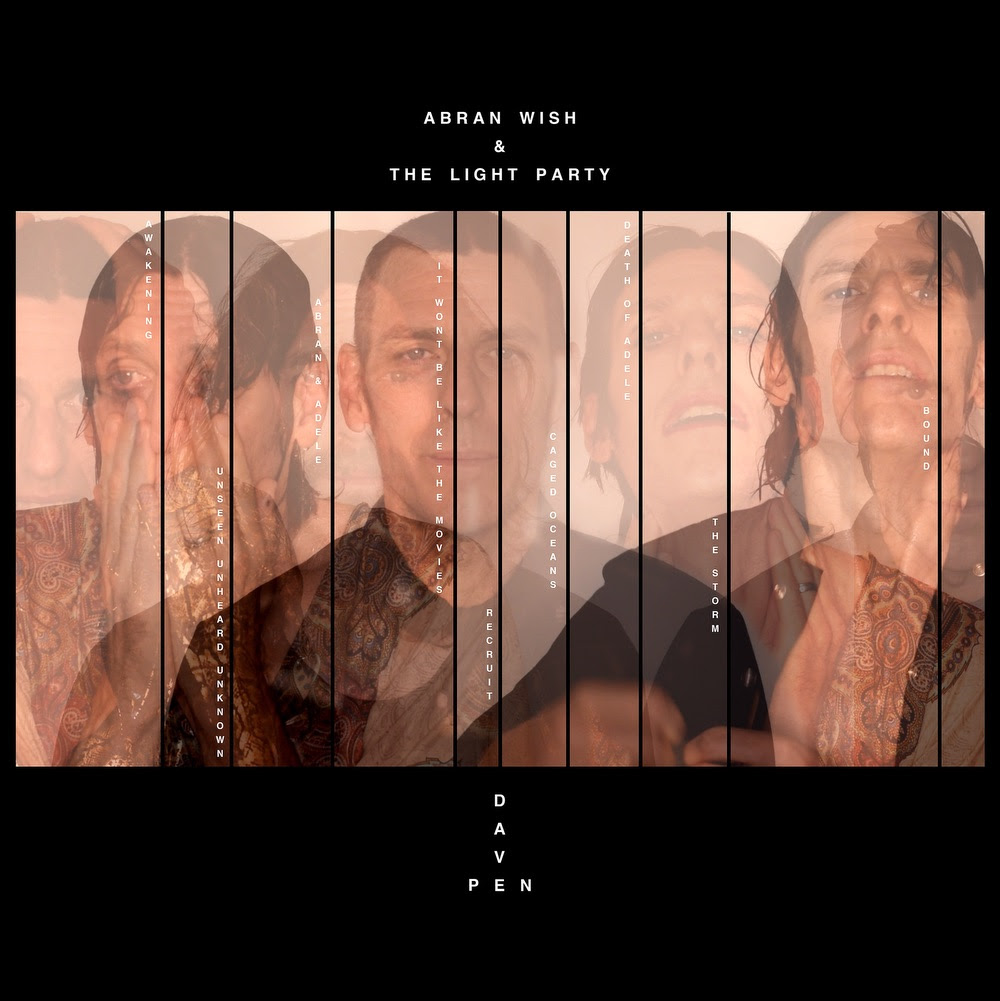 DAVE PEN
ABRAN WISH & THE LIGHT PARTY
debut solo album
out 29.10.21
(JAR Records)
CD order link
burningshed.com/tag/Dave+Pen
digital services link
ditto.fm/abran-wish-the-light-party_1ce9bb0e77
includes the new single
BOUND
out 29.10.21
video
youtu.be/JdD6j6lpiPU
'Bound' is the third single to be released from 'Abran Wish & The Light Party', the debut solo album by Dave Pen that is also released today (29th October). Best known for his role as co-frontman and co-songwriter in the successful prog/alt rock collective Archive, Pen also fronts the duo BirdPen and has collaborated with film/TV composer Robin Foster on various projects that include We Are Bodies.
'Abran Wish & The Light Party' is a concept record about a cult called The Light Party and its leader, with Pen declaring that "I have always been slightly obsessed with cults. I am fascinated by the mindset of it all and how easy it is to manipulate people through fear, feelings, love and control. I have written songs about cult mentality for both Archive and BirdPen, but never a concept album in its entirety. I wanted to create a story about someone who was lost with nothing but is then given a new chance of life from a higher power."
The album traverses alternative and progressive rock, epic and atmospheric post-punk, subtle psychedelia and electronica, with Pen explaining that "I had wanted to make a solo album for a while and for a first effort I wanted it to be conceptual and made entirely by myself. The various lockdowns and complete disappearance of touring for both Archive and BirdPen provided the opportunity to do so."
He describes the album's anthemic finale 'Bound' as "being from the point of view of Abran. He is telling the remaining members of the Party that they are bound to him and will all move onto the next and final part of their journey together. The lyric has a peaceful element about being free to transcend to a new world, while I used a hurdy gurdy sample to give the music a retro 'sending off' feel. It builds like a void into another realm so is sonically a fitting end to both the song and album."
The video for 'Bound' is the final part of a trilogy that has already seen clips for the album songs 'Death Of Adele' and 'The Storm'. Made simultaneously as single shot performance art pieces, all three include moments of despair, loss, sadness and liberation. Pen was unaware of what was to occur within them, acting on the instructions of his director Nicky Balfour. Viewer discretion is advised for the conclusion of 'Bound'.
ABRAN WISH & THE LIGHT PARTY
TRACKLISTING
1  Awakening
2  Unseen Unheard Unknown
3  Abran & Adele
4  It Won't Be Like The Movies
5  Recruit – Logic x
6  Caged Oceans
7  Death Of Adele
8  The Storm
9  Bound