Craig Owens shares reimagined version of Chiodos classic
"Baby, You Wouldn't Last A Minute On The Creek"
Announces VOLUME 1 out August 18th on Velocity Records
US Headline Tour starts today
Powerhouse vocalist and songwriter Craig Owens has announced VOLUME 1, a collection of songs set for release August 18th on Velocity Records. Known for his output with rock bands Chiodos and Destroy Rebuild Until God Shows, VOLUME 1 marks Owens' first solo release. On the album, Owens has brought new life to favorite songs from his vast catalog of work, including the aforementioned Chiodos and Destroy Rebuild Until God Shows, plus Isles & Glaciers and badXchannels, as well as an exclusive unreleased original track.
Today, he shares a reimagined version of fan-favorite Chiodos track "Baby, You Wouldn't Last A Minute On The Creek," turning the chaotic, post-hardcore classic into a lush ballad. As the original piano instrumentation of the track elevates into a striking, full sound, Owens' vocals exude emotion and connectivity. The video for the song is an intense dance, with an equally powerful performance from Owens and can be watched here now.
Speaking on the song, Owens stated:
"'Baby, You Wouldn't Last A Minute on the Creek' is a song about a relationship that has reached a point of stagnation or dissatisfaction and a desire to end a relationship that has lost its spark and meaning. The song portrays a sense of disillusionment, a desire for a clean break, and an acknowledgment that walking away is the best course of action despite the pain."
VOLUME 1 was recorded, produced, engineered, and mixed by Steve Evetts (The Dillinger Escape Plan, The Wonder Years) and mastered by Alan Douches at West Side Mastering. It is available for preorder now though Velocity Records and the full tracklist can be viewed below.
Craig Owens will head out on a U.S. headline tour starting today in Denver, CO and running through July 8th, ending in St. Louis, MO. Support comes from Kurt Travis and Moxy the Band with Voila on select dates. Tickets can be purchased here now.
VOLUME 1 Tracklist:
01. Cemetery Weather
02. To Trixie And Reptile, Thanks For Everything
03. Graveyard Dancing
04. Baby, You Wouldn't Last A Minute On The Creek
05. DESTINY
06. Intensity In Ten Cities
07. Mr. Owl Ate My Metal Worm
08. GOLD
09. It's Easy
10. I Wanna Be Alone
11. 3 AM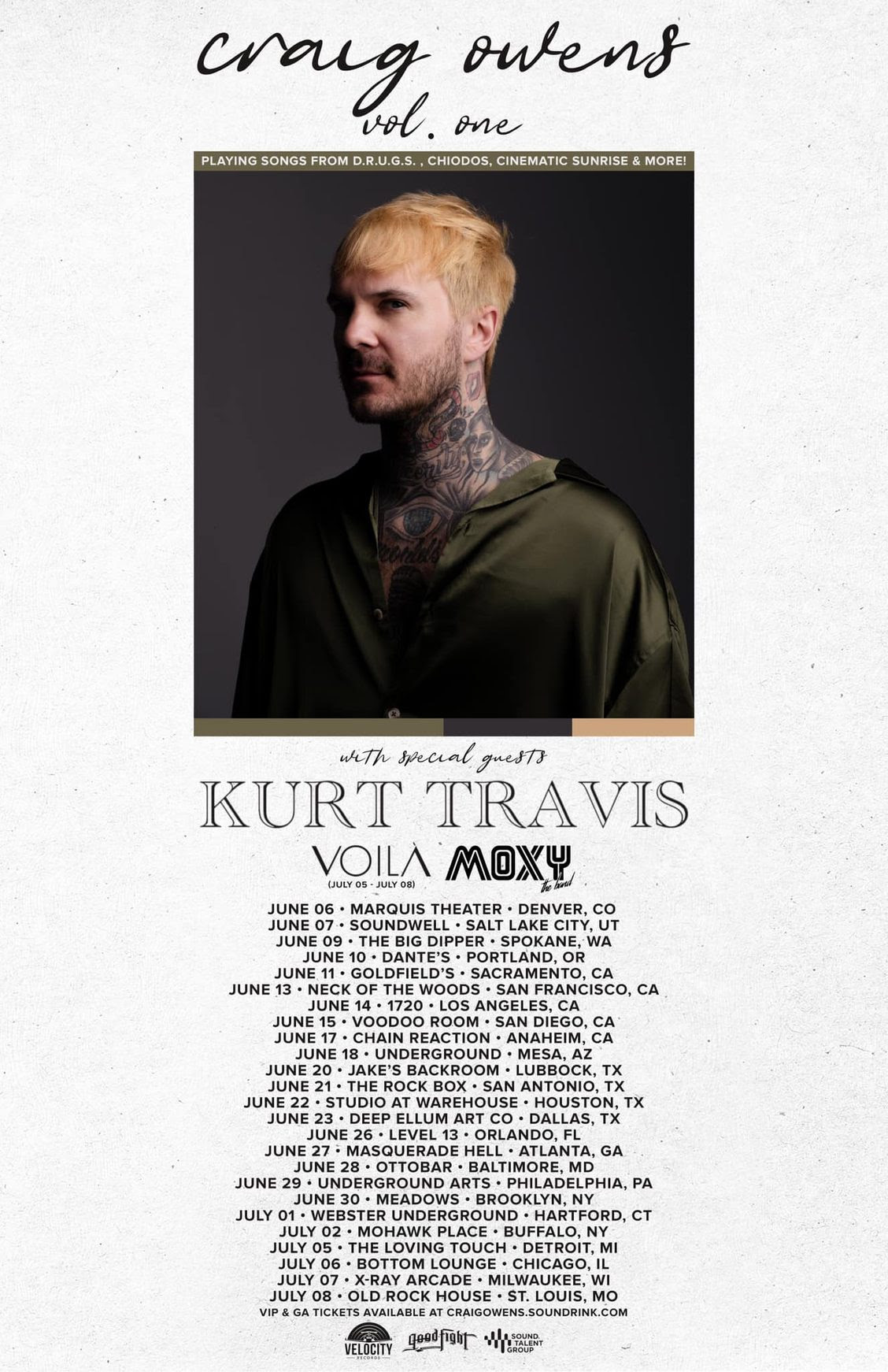 Tour Dates:
w/ Kurt Travis and Moxy The Band
06/06 – Denver, CO @ Marquis Theater
06/07 – Salt Lake City, UT @ Soundwell
06/09 – Spokane, WA @ The Big Dipper
06/10 – Portland, OR @ Dante's
06/11 – Sacramento, CA @ Goldfield's
06/13 – San Francisco, CA @ Neck Of The Woods
06/14 – Los Angeles, CA @ 1720
06/15 – San Diego, CA @ Voodoo Room
06/17 – Anaheim, CA @ Chain Reaction
06/18 – Mesa, AZ @ Underground
06/20 – Lubbock, TX @ Jake's Backroom
06/21 – San Antonio, TX @ The Rock Box
06/22 – Houston, TX @ Studio @ Warehouse
06/23 – Dallas, TX @ Deep Ellum Art Co
06/24 – Dallas, TX @ So What
06/26 – Orlando, FL @ Level 13
06/27 – Atlanta, GA @ Masquerade – Hell
06/28 – Baltimore, MD @ Ottobar
06/29 – Philadelphia, PA @ Underground Arts
06/30 – Brooklyn, NY @ Meadows
07/01 – Hartford, CT @ Webster Underground
07/02 – Buffalo, NY @ Mohawk Place
07/05 – Detroit, MI @ Loving Touch w/ Voila
07/06 – Chicago, IL @ Bottom Lounge w/ Voila
07/07 – Milwaukee, WI @ X -Ray Arcade w/ Voila
07/08 – St Louis, MO @ Old Rock House w/ Voila