COVET
 release
'Acoustics' EP
– out today on Triple Crown RecordsWatch the video for
'Glimmer':
Covet, the ultra-talented Bay Area trio of Yvette Young, David Adamiak and Forrest Rice, have today released a three song EP simply titled acoustics, via Triple Crown Records (link to stream/purchase).
"We wanted to create some mellower, more laid back versions of some songs on effloresce, and also breathe new life into them with new accompaniments such as piano, violin, and even light vocals," explained Young. "They're reimagined acoustic versions of older songs, but we hope that with the new accompaniments, tempos and additional layers, they will feel entirely different and take people someplace new."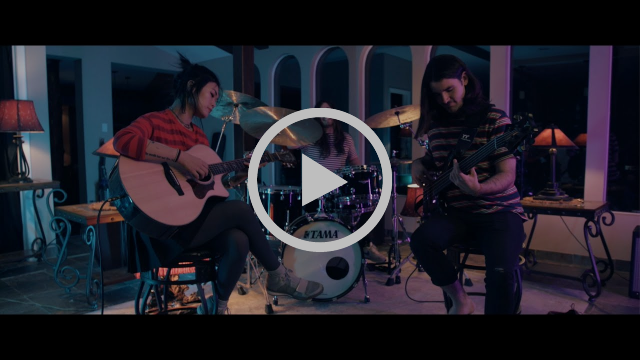 COVET – 'glimmer' (acoustic) (Official Music Video)
acoustics, which features new song "Predawn" as well as stripped down versions of "Glimmer" (video here: https://youtu.be/UsDe4pZ4Zmk) and "Shibuya," arrives as the band prepares for a North American headlining tour, kicking off this Friday at Schuba's in Chicago. The two week outing features openers Vasudeva and Triple Crown labelmates, Holy Fawn. Covet join Periphery this fall (Sept. 9 to Oct. 13) on their North American outing.
The band are in the UK on August 15th for a one-off appearance at the ArcTanGent festival in Bristol.
Covet released their Triple Crown Records' debut, effloresce (http://smarturl.it/effloresce), in July of 2018. Gear Godssaid upon the album's release, "all three of these talented musicians form what is an incredibly musical, lush, and thoughtful sound," while Brooklyn Vegan noted the band's knack for writing "sugar sweet melodies." Guitar Worldpremiered the video for the band's track "Glimmer" (https://youtu.be/iaBYzjaMCuQ), while Revolver marked Halloween 2018 with the debut of the band's video for "Howl" (https://youtu.be/E70ZtPL0ifo)/.