With a career spanning 33 years, Cannibal Corpse is the kings of death metal. Anyone you talk to in the death metal scene has a favourite Cannibal Corpse album. Being it Chris Barnes early era for the band or maybe a new listener to the last few albums like "Skeletal Domain" or "Red Before Black".What we can all agree is that even with such a legacy behind them the band have been able to keep themselves atop the throne, king of the hill if you will. Their last album "Red Before Black" was a stonker of an album and cemented Cannibal as a band that can do no wrong."Violence Unimagined" is no different, it is an unrelenting barrage of brutality & gives you everything you could want from such an esteemed band. Blasting open the album "Murderous Rampage" is the Cannibal Corpse we all love & know. Crazy chaotic guitar rhythms by Rob Barrett & Erik Rutan, Paul Mazurkiewicz drumming like a mad man, Alex Webster's signature bass sound thumbing along & adding groove to the track. And the icing on the cake, George Fishers perfectly pronounced vocal range & 100 words a minute vocabulary.
From the first to the very last, we have it all, this album does not disappoint I can't promise you.
One of my favourite parts of Cannibals discography over the last few years has been this big enthusiasm of groove. Tracks like "Scourge Of Iron", "Evisceration Plague" & "Red Before Black" are tracks from the last few albums that saw the band slow down the tracks & write bigger head-banging tracks, they are still death metal to a tee. But with such a big catalogue of songs, these quickly became fan favourites & some of my personal favourite Cannibal tracks.
With "Violence Unimagined" the groove is all over the whole album. They have been able to add that groove from the hit tracks into the fast-paced unrelenting tracks.
Cannibal has always been a catchy band but "Violence Unimagined" has been able to dial it in perfectly & bring what i feel is a new shade to the band that i can't wait to hear where they go from here. "Inhumane Harvest" the first track to be released as a single has quickly become my new Cannibal favourite. Rob Barrett's writing on this track is top-notch, Bringing that groove, but the technical edge that blends seamlessly between riffs. The lyrical theme of this track is just crazy & brilliant.
"Condemnation Contagion" is the first track we hear that is solely written by new member Erik Rutan. Erik is able to write tracks that sound so perfectly Cannibal without it sounding overwritten or forced. But I admit his tracks add this certain vibe to the tracks. The bridge on the track is amazing. All instruments syncing on a dime to become a swell of tremolo riffing and blasting that culminates into an urgent frantic short passage that adds so much to the track. "Surround, Kill, Devour" is my second favourite track on the album, a more simple Cannibal track we know and love the sound of but the highlight on this track is George Fisher's vocal delivery. Alex Webster has been able to write a vocal pattern that just makes this track stand out so well & works so brilliantly with the rest of the band.
Now for what I think will be the new fan favourite,"Follow the Blood". A huge melting pot of all the traits that Cannibal over the past 33 years have been able to make their signature sound but this time with a really refreshing sound. The perfect 50/50 of brutality & speed. "Overtorture" is the 3rd Erik Rutan track on the album. The more "extreme" side of Cannibal, non-stop blasting, frenetic guitars and George Fisher oesophagus bellowing out vile & depraved lyrics. If you love fast unbridled chaos, You will love this. The closer "Cerements of the Flayed" is a great finish & cap of the album. Ending the track in a sea of noise & carnage. Leaving you to pick up your own body parts up from the floor.
"Violence Unimagined" is everything you could ever ask from a Cannibal Corpse album. This will have something for fans of older & newer Cannibal, and will leave your jaw on the floor wanting more!
Joseph Mitchell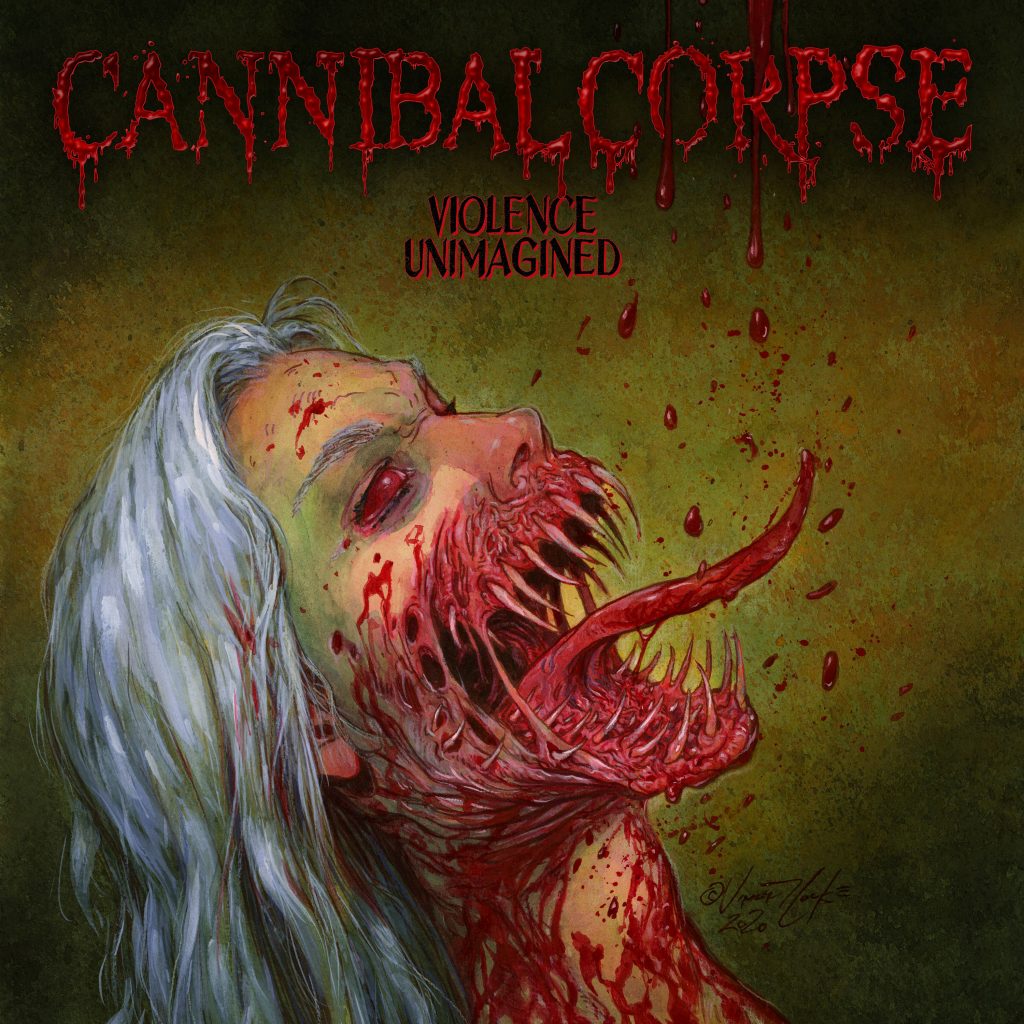 Tracklist:
1.Murderous Rampage
2.Necrogenic Resurrection
3.Inhumane Harvest"
4.Condemnation Contagion
5.Surround, Kill, Devour
6.Ritual Annihilation
7.Follow the Blood
8.Bound and Burned
9.Slowly Sawn
10.Overtorture
11.Cerements of the Flayed
Line Up:
George Fisher – Vocals
Erik Rutan – Lead guitar
Rob Barrett – Lead and Rhythm Guitar
Alex Webster – Bass Guitar
Paul Mazurkiewicz – Drums
https://cannibalcorpse.bandcamp.com/
Cannibal Corpse // Violence Unimagined // Album Review