new lead singer announced
'Uninvited'
lyric video for song from
Wigan based hard rock band Bigfoot have replaced their lead singer after holding auditions over the
summer. An official statement from the band reads:
After careful consideration and deliberation, we are incredibly excited to officially introduce you to
our new lead vocalist, Sean Seabrook. We have been working very hard behind the scenes over
the past few weeks to find the right person for this role and we are ready to push forward with Sean.
We are all feeling very positive and excited about this new phase together! All of our shows from
September onwards will go ahead as planned and we hope that you can come and be a part of 
the next chapter for Bigfoot. We would also like to take this opportunity to thank all the vocalists
that took the time to apply and wish all of them the best of luck in the future. 
Seabrook himself states: "I would like to say thank you to the lads for allowing me to be a part of the
family. I have been a fan of Bigfoot for some time and to now be a working part of the machine is
a true honour. I can't wait to see what I can bring to the band and what the future holds for us.
I know I'm right in saying that we are all itching to get out on the road together. Personally, I can't
wait to take the stage fronting this band and meeting all the fans. See you all soon!"
Bigfoot will be on tour this autumn, with confirmed UK shows as follows :
13.09.18  WIGAN Boulevard
28.09.18  STOKE Eleven
29.09.18  MANCHESTER Rebellion
30.09.18  GRIMSBY Yardbirds
04.10.18  EVESHAM Ironroad
05.10.18  NUNEATON Queens Hall
06.10.18  LONDON New Cross Inn
07.10.18  CARDIFF Fuel
10.10.18  YORK Fulford Arms
11.10.18  EDINBURGH Bannermans
12.10.18  NEWCASTLE Cluny 2
13.10.18  CARLISLE Brickyard
14.10.18  SHEFFIELD Corporation
18.10.18  BLACKPOOL Waterloo
19.10.18  LEEDS Key Club
20.10.18  NOTTINGHAM Rockingham Festival
03.11.18  PONTYPRIDD Muni Arts Centre
30.11.18  WOLVERHAMPTON Slade Rooms
01.12.18  TRECCO BAY Planet Rockstock
14.12.18  BRADFORD Underground
15.12.18  PRESTON 53 Degrees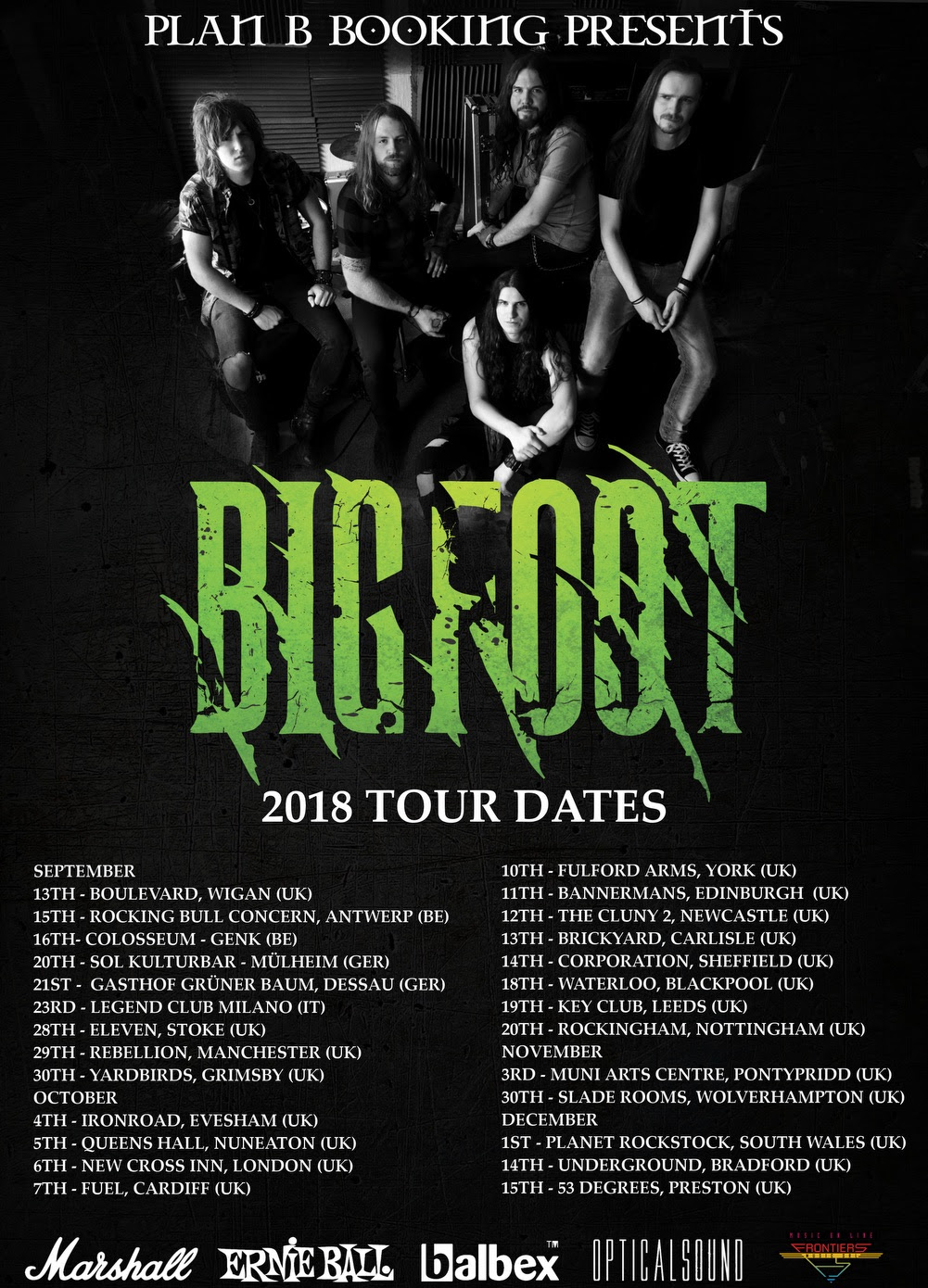 The self-titled debut album by Bigfoot was released in October 2017 and was voted the no. 11 
Album of the Year in the Planet Rock magazine readers poll as well as receiving critical praise.
"Commanding vocals, a twin guitar attack that meshes fierce staccato rhythms and lightning lead 
guitar lines, and a stomping beat all combine to grab your attention. 8 out of 10" 
CLASSIC ROCK
"This is some of the most enjoyable rock you will hear all year. 10 out of 10" 
POWERPLAY
BIGFOOT
Sean Seabrook – vocals
Sam Millar – guitar
Mick McCullagh – guitar
Matt Avery – bass
Tom Aspinall – drums
#RockAintDead
Bigfoot is part of the Frontiers New Breed family, a stable of young, exciting, up and coming
bands who will be the future of hard rock and metal. The label is focused on finding and developing
new bands who will show the world that rock is indeed far from dead.
ABOUT FRONTIERS MUSIC SRL
Originally founded in Naples, Italy in 1996 by Serafino Perugino as a distribution company, Frontiers has
developed into one of the premiere independent rock labels in the world. Synonymous with quality music
across a broad spectrum, the company has worked with genre heavyweights such as DEF LEPPARD,
WHITESNAKE, JOURNEY, YES, ELECTRIC LIGHT ORCHESTRA, RICK SPRINGFIELD, STRYPER,
WINGER, MR. BIG, NIGHT RANGER and more. Aside from providing a home for classic artists,
Frontiers also boasts a wealth of young, upcoming talent that, coupled with a savvy and forward thinking
A&R and marketing approach, will be developed into the future of rock 'n' roll. With millions of records
sold and multiple Top 10 album chart entries around the world, the label has also expanded with offices
in the USA (Nashville) and UK (London). With a deep commitment to and passion for music and the
artists who create it and with massive global distribution, sales and marketing channels,
Frontiers is the home for both established and emerging rock acts.
Subscribe to be alerted when new videos are added:
Follow the 'Newest From Frontiers' playlist on Spotify: