BAEST
RELEASE VIDEO FOR NEW SINGLE "VITRIOL LAMENT'
NEW ALBUM "VENENUM" OUT 13TH SEPTEMBER 2019
On September 13
th
, 2019, Denmark's death metal powerhouse
BAEST
will release its second studio album "
Venenum
" on Century Media Records. Now, the band proudly presents the new single and video 'Vitriol Lament' and say the following about the song:
"Winds of malice and hate, a vortex of cries and anger. 'Vitriol Lament' is the opening track of "Venenum", and the final single before its release. 'Vitriol Lament' marks the descent into BAEST's second album, released 13th of September through Century Media Records."
The video for 'Vitriol Lament' was filmed, directed, and edited by Søren Kahr during BAEST's visit to G! Festival on the Faroe Islands, enjoy! https://youtu.be/j8nB3VzGAZk
Furthermore, BAEST recently announced a series of in-store events called (Tor)tour!
"We will embark on a record store (Tor)tour on September 12th – 14th throughout Denmark, where we'll let hell loose in the raw and intimate settings of the local vinyl-shops in Denmark."
All dates of the (Tor)tour can be viewed below:
12/9 – BAEST · Vinylbiksen, Horsens @ 16.00
12/9 – BAEST · Record Pusher, Odense @ 20.00
13/9 – BAEST · Vinylfreak, Roskilde @ 16.00
13/9 – BAEST · Accord, København @ 20.00
14/9 – BAEST · Respin, Herning @ 12.00
14/9 – BAEST · Badstuerock, Aarhus @ 16.00
14/9 – BAEST · Mig & Ølsnedkeren @ 20.00 (Afterparty)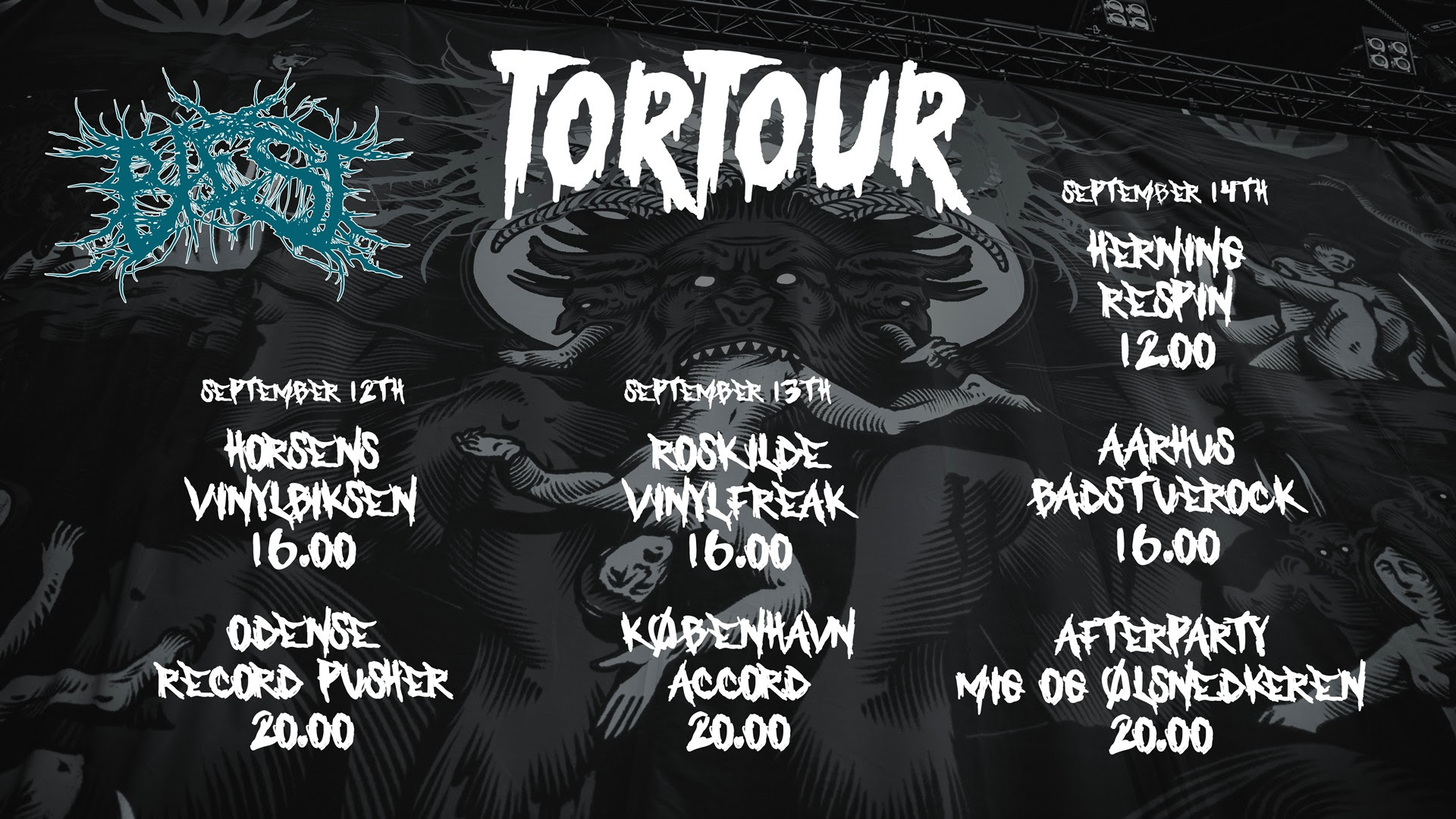 Kicking off in London on October 18
th
, 2019, BAEST will join their labelmates Aborted and Entombed A.D. on the 'Hell Over Europe III' tour to bring the sonic carnage of "Venenum" to a club near you! See the full list of dates below."Venenum" will be released as Limited Edition CD Digipak, vinyl plus CD as well as on all digital platforms. Exclusive coloured editions are available via these outlets:
100x Light blue vinyl (SOLD OUT!) & 200x Petrol green –
www.cmdistro.de
700x Clear-red splatter vinyl "Danish edition" available through
https://store.baestband.com
Order / stream:
https://Baest.lnk.to/VenenumID
Recorded at FinlandStudio, mixed and mastered by Andreas Linnemann at Hop House Studio, "Venenum" sees the band's strong Swedish death metal influences evolve towards a more diverse approach, further embracing elements reminiscent of Morbid Angel, Death and Bolt Thrower as well.
– Hell Over Europe III –
ABORTED & ENTOMBED A.D.
Special guest: BAEST
18/10/2019 UK London – The Dome
19/10/2019 DE Paderborn – Metal Inferno Festival
20/10/2019 DE Leipzig – Taubchentall
21/10/2019 CZ Prague – Futurum
22/10/2019 SK Bratislava – Randal Club
23/10/2019 PL Warschau – Proxima
24/10/2019 LT Vilnius – Kablys
25/10/2019 LV Riga – Melna Piektdiena
26/10/2019 EE Talinn – Tapper
27/10/2019 FI Helsinki – On The Rocks
29/10/2019 SE Stockholm – Slykhust
30/10/2019 SE Gothenburg – Pustervik
31/10/2019 NO Oslo – Jon Dee
01/11/2019 DK Copenhagen – Vega
02/11/2019 DE Kassel – Goldgrube
03/11/2019 DE Mannheim – MS Complex
04/11/2019 IT Milano – Legend club
06/11/2019 ES Murcia – Garaje
07/11/2019 ES Malaga – Paris15
09/11/2019 ES Bilbao – Stage Live
10/11/2019 FR Toulouse – Metronum
11/11/2019 FR Niort – Camji
12/11/2019 FR Rennes – Ubu
13/11/2019 FR Savigny Le Temple – L'Empreinte
14/11/2019 BE Antwerp – Zappa
15/11/2019 NL Haarlem – Patronaat
16/11/2019 NL Sittard – Volt
17/11/2019 DE Hamburg – Kulturpalast
Booking EU: https://www.doomstarbookings.com/
Booking DK: https://skandinavian.dk/