Award winning Prog-metal three piece WEBB have announced details of their new album. Sonically powerful, WEBB deliver huge riffs, addictive hooks, and anthemic melodies throughout their new record. 'Deadly Sins and Virtues' is set for release June 30th.
Mastered by Grammy Award winning mastering engineer Dave Collins (Metallica, Alice In Chains, Slipknot), 'Deadly Sins and Virtues' was produced and mixed by Ryan Webb in his studio. Focused, potent and all prevailing, the new album delivers on the potential showcased by previous releases and presents a collection of music hard rock and metal fans will devour.
WEBB are a hard-hitting prog-metal power trio from the South West of England. With soaring vocals, uncompromising guitar riffs, hermetic bass and relentless drums, Ryan Webb, Luca Massidda and Nigel Powell unleash a flying brick wall of sound that captivates your full attention. The trio recently won best Hard Rock and Metal Act 2022 at the Radio Wigwam Awards in London.
The new album, 'Deadly Sins and Virtues' was written with one specific theme in mind. Good and bad. Centuries ago a list of sins and virtues was created; evil actions vs good deeds, dark against light. WEBB have created their own version of what they consider to be deadly (not in the literal sense though) sins and virtues. Representing toxicity in a modern society that's grappling with digital exhaustion and a planet at crisis point, WEBB's new album points towards a sense of renewed hope and a positive message that there's always a way forward.
Ryan Webb (vocals/guitars) says, "'Deadly Sins and Virtues' is a concept album which we'd had in mind for a while. Notably, the seven deadly sins have been a popular motif in art and literature, persisting as a concept through the centuries, that's entered into the realms of pop culture courtesy of the innovation of media. We wanted to stamp our own take on this, with a few twists. With this new record, we achieved what we were aiming for and have managed to unleash the WEBB sound that had been lurking in the shadows. We hope you enjoy the new album  as much  as we enjoyed making it."
Sonically 'Deadly Sins and Virtues' is a veritable nirvana for hard rock/metal fans that enjoy heavy sonics entwined with melody. From the opening shot of 'You're Going Down', WEBB's new album cuts to the chase immediately. Check out the heavy hitting tracks 'Hate' and 'Hope', these are bona fide bangers. The trio's experimentation throughout 'Deadly Sins & Virtues' is evident on their cover of the classic 'Nights In White Satin' (think Metallica meets Alice In Chains with Disturbed and you're halfway there).
Finishing on a high, WEBB's exploration of negativity is combined with a true message that many who struggle in a time of overwhelment, mental health and wellbeing issues. "I just want to stay alive", screams WEBB. Never a truer word spoken, there's always hope even in the darkest of hours.
'Deadly Sins and Virtues' is released 30th June 2023. The CD is available for pre-order now, with digital platforms to follow soon.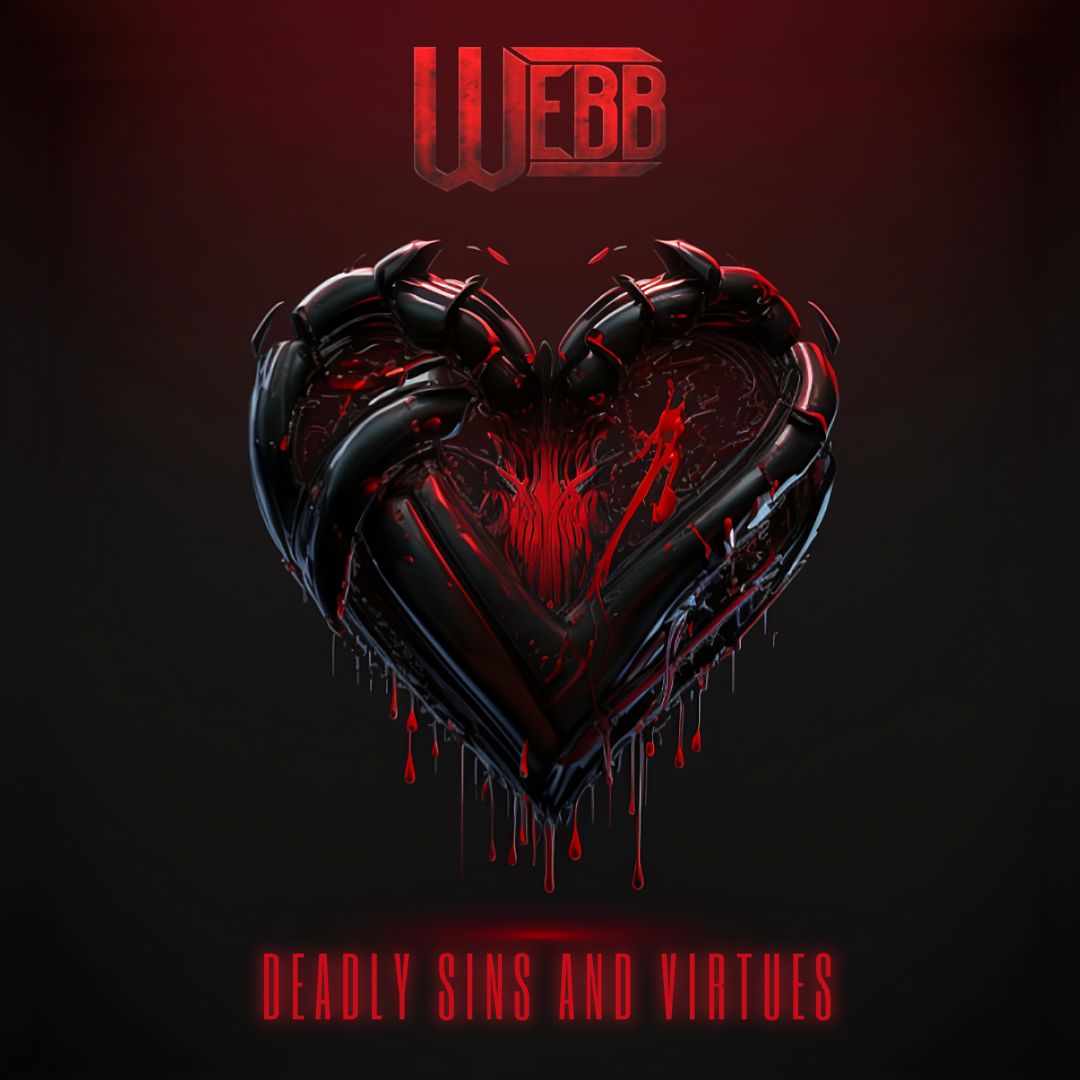 ALBUM TRACKLIST:
1. You're Going Down 
2. Spread Your Wings
3. Hate
4. Keep Fighting
5. Can't Break Me
6. Nights in White Satin
7. Hope
8. Don't Ask Why
9. Stay Alive
. CONNECT WITH WEBB:
Official Website: www.webbofficial.com
Facebook: www.facebook.com/WEBBOfficial
Instagram: www.instagram.com/webbofficialuk
Twitter: www.twitter.com/WebbOfficialUK
YouTube: https://www.youtube.com/c/WebbOfficial
TikTok: https://www.tiktok.com/@webbofficial
. WEBB are:
Vocals/guitars – Ryan Webb
Bass – Luca Massidda
Drums/BVs (Hate) – Nigel Powell
Strings (Nights In White Satin) – Nigel Powell