TO CELEBRATE THE 21ST ANNIVERSARY OF THE FIRST CREW ARRIVING AT THE INTERNATIONAL SPACE STATION
CREATED BY AWARD-WINNING COMPOSER ILAN ESHKERI
IN COLLABORATION WITH THE EUROPEAN SPACE AGENCY
SPACE STATION EARTH
General Entertainment Associates in collaboration with the European Space Agency (ESA) have announced the U.K. and European touring dates for Space Station Earth, created by award-winning composer Ilan Eshkeri. This ultimate immersive concert is the first of its kind and a truly unique experience. The European tour kicks off on 15th May 2022 at the prestigious Royal Albert Hall and will then continue its space journey throughout Europe.
Space Station Earth is a music-led, multi-media experience that allows the audience to see through the eyes of astronauts and to contemplate our planet, the stars, and the exploration of the universe. Featuring no dialogue or narration, audiences can expect to lose themselves in the extraordinary visuals and emotionally charged music and leave filled with awe and wonder.
The live performance takes audiences as close as possible to the unique experience by astronauts. In Space Station Earth, award-winning composer and show creator Ilan Eshkeri has combined his exceptional compositions with film from astronauts aboard the ISS as well as images from European Space Agency locations that have been filmed with unprecedented access and cutting-edge techniques. This mostly never-before-seen footage will be projected across three massive screens with a light show to create an incredible experience. Humanity has long been fascinated by the universe beyond our planet. The few people that have experienced a voyage into space often express a similar sensation: the realisation that we are all travelling together through space and time on our own space station called Earth.
WATCH 'SPACE STATION EARTH' TRAILER HERE
Speaking about the inspiration behind the show and his journey creating it, Ilan Eshkeri commented: "My music has taken to me to many unexpected and extraordinary places, but when Astronaut Tim Peake got in touch to say he was a fan of my work, a door was opened to one of the most amazing and inspiring journeys of my life, the result of which is Space Station Earth.
There are so many facts and figures about travelling to the International Space Station, but no one has ever told the emotional journey that astronauts go on. A journey that has startlingly similar experiences for astronauts from all corners of the world, and it was this realisation that inspired me to create Space Station Earth.
Deciding to direct the film element was ambitious for a composer. I had a sense of what I wanted to achieve and an incredible team both on location and in the edit.  ESA provided unprecedented access, I got to see rocket launches, a zero-gravity flight, and a chance to get lost in their video archive as well as the opportunity to get advice from ESA scientists and Astronauts.
At the same time, I started creating the music with synthesisers. I spent a few days coming up with different ideas then I started to add strings, brass, and choir to deliver the awe-inspiring epic scale only an orchestra can.
Major inspirations were Kraftwerk, Jean-Michel Jarre, and Steve Riech as well as Koyaanisqatsi, 2001: A Space Odyssey, and Fantasia.
With Space Station Earth, music, film and staging come together to create the visceral and immersive experience of going to space and looking back at our home, a journey very few have undertaken, communicated to the audience through pure emotion."
ESA astronaut Tim Peake said of Space Station Earth: "There aren't many words that can truly describe the beauty of seeing Earth from space. But Space Station Earth attempts to do this, using music and video, to capture the emotion of human spaceflight and exploration. Featuring previously unreleased footage from ESA astronauts and accompanied by a live orchestra, the show creates a unique experience, one that celebrates space and unites the audience, just as exploration unites humankind."
Space Station Earth will tour through the U.K. and Europe with special guest ESA astronauts who will participate in a pre-show Q&A with Eshkeri. The inclusion of these real-life heroes will give audiences the once-in-a-lifetime opportunity to hear the first-person accounts of the few humans who have lived off the planet and how that has affected the way in which they appreciate and understand the world.
It has been said that living on the space station you realise that if you don't look after the vessel you are travelling in and you don't look after your fellow travellers, you won't survive the journey. Then, when you look down upon Earth, you realise that the same is true. We have to look after this planet we're travelling on and we have to look after each other in order to survive the journey. This is the story of Space Station Earth.
Space Station Earth Tour 2022 – TICKETS
15th May – London, UK – The Royal Abert Hall
Special guest: ESA Astronaut Tim Peake
17th August – Copenhagen, Denmark – Royal Hall
Special guest: ESA Astronaut Andreas Mogensen
19th August – Rättvik, Sweden – Dalhalla
Special guest: ESA Astronaut Andreas Mogensen
07th October – Stuttgart, Germany – Porsche Arena
Special guest: ESA Astronaut Matthias Maurer
08th October – Düsseldorf, Germany – Mitsubishi Electric Halle
Special guest: ESA Astronaut Matthias Maurer
09th October – Bremen, Germany – OVB Arena
Special guest: ESA Astronaut Matthias Maurer
ABOUT ILAN ESHKERI
Ilan Eshkeri is an award-winning composer, artist, songwriter, producer and creator. Eshkeri's work is performed in concert, theatre, film, television and video games; his eclectic body of work is linked by his love of narrative.
Eshkeri has won and been nominated for many awards, including two BAFTAs and two Ivor Novellos. Amongst his extensive catalogue are multiple Oscar, BAFTA, Emmy and Grammy-winning works such as Still Alice, Stardust, Shaun The Sheep, The Snowman & the Snowdog, The Young Victoria, A Perfect Planet, Ghost of Tsushima and The Sims.
Eshkeri has many long-term collaborators. He has worked multiple times with legendary naturalist Sir David Attenborough as well as with actor/ director Ralph Fiennes. He has written two ballets and been asked to do many unique large-scale projects such as Reliquary for Burberry, a landmark fashion show, where he composed and conducted a choral symphonic suite, which then reached no.1 in the UK classical charts and a collaboration with the Louvre in Paris for the artist Ahae where he composed a symphonic suite which he conducted for thousands in the gardens of the Louvre.
Eshkeri's many creative partnerships include artists such as Annie Lennox, David Gilmour, Sinead O'Connor, KT Tunstall, Tom Odell, Emily Sande, Ash, Take That and Coldplay.
Eshkeri continues his collaboration with astronaut Tim Peake and the European Space Agency with his spell-binding show Space Station Earth last performed in Stockholm to an audience of 10,000 people.
GENERAL ENTERTAINMENT ASSOCIATES (GEAlive)
GEA Live designs and delivers creative projects off all sizes and disciplines. Since 2012, there has been a shift in the company's focus to film music as a genre. In recent years GEA closely cooperated with the late legend Maestro Ennio Morricone (whom GEA exclusively represented for all live touring) as well as with icons of music film industry such as James Newton Howard, Giorgio Moroder and George Fenton. GEA produces live screenings with orchestra and choir of major motion pictures such as The Godfather, Titanic, La La Land, The Hunger Games, Paddington and Amadeus.
EUROPEAN SPACE AGENCY
ESA provides Europe's gateway to space that benefits citizens of Europe and the world.
ESA develops the rockets, spacecraft and ground facilities needed to keep Europe at the forefront of space activities. ESA's operations cover satellites, Earth observation, navigation, telecommunications and astronomy (including the Hubble telescope), exploration of the far reaches of the Solar System and human exploration of space with the European Astronaut Corps (EAC).
ESA is a committed partner of Space Station Earth. They provide the majority of the exclusive visuals (including Hubble telescope images). Furthermore, they have granted composer Ilan Eshkeri unprecedented access to ESA Space Ports and Radar Arrays. Finally, ESA will be a branding/presenting/supporting partner for the tour, offering marketing, PR and social media support through their channels and extraordinary access to the Class of 2009 astronauts who are all committed to supporting the project.
THE INTERNATIONAL SPACE STATION
The International Space Station is the biggest object ever flown in space, and easily one of mankind's most remarkable achievements. At night it can easily be seen from Earth, as it flies 400 kilometres above us. Five partner Space Agencies worked together to build the Station, which now involves people from more than 15 countries, making it the world's largest international cooperative program in science and technology.
It has been permanently occupied by people from these different countries, working together for over 20 years. It is both a pinnacle of human achievement and a beacon of hope that is a testament to what we can achieve when we work together.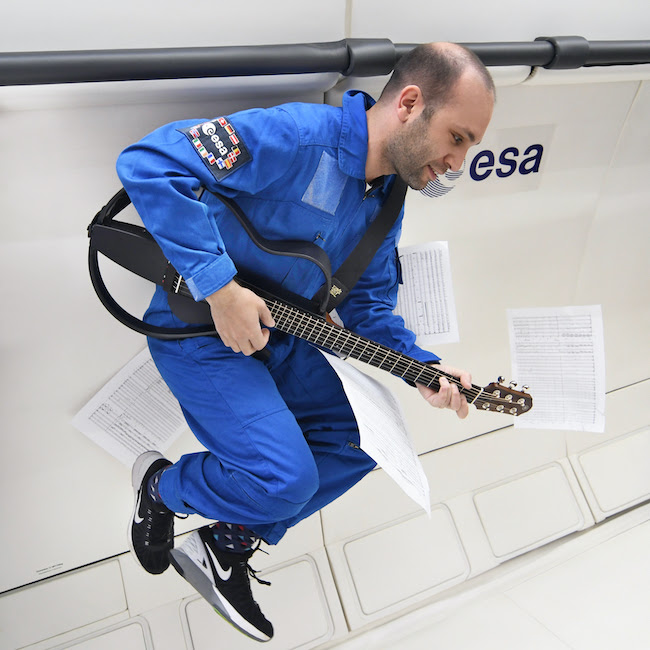 Ilan Eshkeri floating on the Novespace zero G flight