ATMOSPHERIC POST-HARDCORE OUTFIT GLASSLANDS DEBUT NEW SINGLE AND VIDEO "BURY MY FLAME" 
UPCOMING ALBUM THE DEEP OUT 4.8.22 ON VELOCITY RECORDS
JOIN THE VELOCITY RECORDS TOUR ALONGSIDE D.R.U.G.S, SKSK & MORE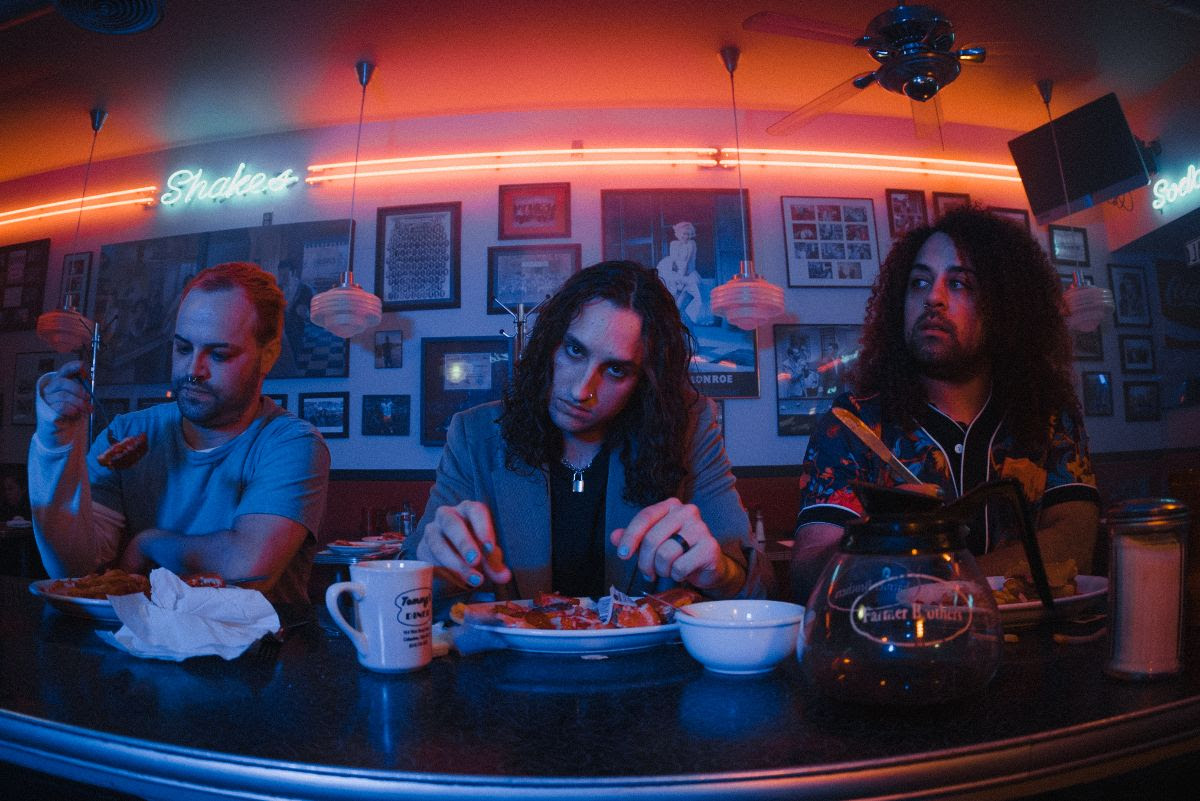 Credit: Shelby Parks 
Experimental post-hardcore outfit Glasslands has shared their emotive new single "Bury My Flame", which will appear on their upcoming album The Deep out 4.8.22 on Velocity Records. You can pre-order merch and vinyl bundles here. This concept album follows fictional protagonist Mr. Creeps, who resides in the titular location The Deep. Dealing with concepts of failure, insecurity, grief and depression, The Deep chronicles the main character's journey of self examination and gives the listener the opportunity to draw parallels to their own life. The band consists of Josh Kincheloe (vocals), Jordan DiSorbo (guitar), and Brandon Mullins (drums) and specializes in meshing heavy riffs with atmospheric post-rock to create a sound that is uniquely their own.
"Bury My Flame" showcases the band doing what they do best –  meshing complex lyricism with lighting-in-a-bottle moments that propel the song forward. The riffs ebb and flow between ethereal and aggressive, supported by a lush layer of percussion and a crushing mix that emphasizes the powerful nature of the track. The official video is beautifully shot and adds a compelling visual narrative to the song. You can stream the track and view the video here.
On the theme of their latest track, vocalist Josh Kincheloe has this to say:
"'Bury My Flame' comes from a pretty dark place. I was really struggling the past few years and a lot of it came out on the record. The writing process for the album and this song in particular was very therapeutic and I hope people can connect with it in their own way
Glasslands will be hitting the road later this month as part of The Velocity Records tour supporting D.R.U.G.S, Scary Kids Scaring Kids, Secrets and Dead American. Full tour itinerary is listed below. The Deep is out 4.8 on Velocity Records and available for pre-order now.
Official Album Artwork 
The Deep Tracklist 
01. Beggar • 4:10
02. Mr. Creeps • 3:07
03. Mad • 3:28
04. Secret • 3:40
05. Ghosts • 4:45
06. Silent Prey • 4:42
07. Bury My Flame • 3:40
08. Liar • 4:07
09. I Can't Bend • 3:46
10. Let Go • 7:05
About Glasslands 
Glasslands, a hard-hitting and energetic band known to experiment in the atmospheric rock realm, is on track to release their highly anticipated album The Deep on Velocity Records on 4.8.22. The band, consisting of Josh Kincheloe (vocals), Jordan DiSorbo (guitar), and Brandon Mullins (drums), creates an eclectic sound due to each member's history with other bands and projects in the alternative scene. Their influences ranging from heavy to low-fi, are demonstrated through their intricate use of technical elements in their songs. The writing process for The Deep started in 2018, and the band is excited to finally share it with the world on April 8th.