ARLISTON
REVEAL ARTISTIC NEW VIDEO FOR:
"MOTHERING"
WATCH THE VIDEO NOW HERE
STREAM ON ALL SERVICES HERE
TAKEN FROM THEIR SECOND EP OF 2022:
'EVEN IN THE SHADE'
OUT THIS NOVEMBER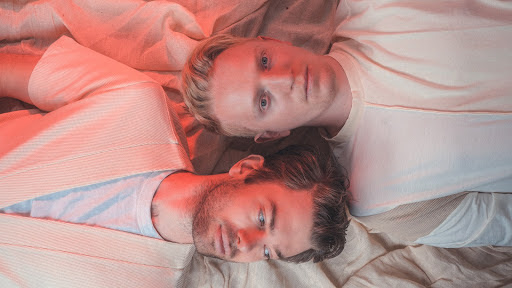 "Beguiling experimental pop" – CLASH
"Insightful songwriting and soaring instrumentals" – Earmilk
"Everyone has those moments whereby plugging in some headphones and tuning out from the world is the motive, and trio Arliston are making us do just this with their alt-pop" – Wonderland
Today (26 August), ARLISTON are pleased to unveil the stunning new video for their new single "Mothering".
WATCH THE VIDEO HERE || STREAM ON ALL SERVICES HERE
Like three complementary threads being woven through an ornate tapestry, "Mothering" sees Arliston gently blend together delicate vocals, glistening guitars and textured piano taps to create a track that feels just as clean as it does complex.
Perfectly complimenting the new music, the single now arrives with a beautiful, thought-provoking video courtesy of Director Bo Morgan and starring rising acting talents Nathen East, Jessica Boyd & Tallulah Boyd. You can watch it now, here: https://www.youtube.com/watch?v=FGM9ZfLg2Oc
Sophisticated and self-assured in both its lyrics and production — and written, produced and played by the band themselves — the new cut sees gentle instrumentation ebbing and flowing as silky vocals balance moments of vulnerability and introspection with quieter, more reserved assertions.
Speaking about the track, vocalist Jack Ratcliffe reflects:
"This one grabbed us the moment we started writing it and hasn't really let go since. There's something about how it all fits together that is deeply satisfying. It was the first song we wrote after 'The Ground Might Disappear' and once we had the sound and feel of the first take down we knew we had to build an EP around it." 
Unfolding like a carefully textured soundtrack for those much-needed moments of quiet contemplation, "Mothering" is the first single from 'Even In The Shade', Arliston's second EP of 2022. Far from putting on the breaks, the new release keeps up the glistening momentum built on earlier EP 'The Ground Might Disappear' and sees the band establish themselves further as an assured new voice in indie-pop.
With intricate production and tight musicianship seeing the band expertly toe the line between optimism and melancholia, Arliston have amassed over 38,000 monthly listeners on Spotify and gained placement on a number of the streaming giant's editorial playlists including New Music Friday and The Most Beautiful Songs In The World. Well and truly embedding themselves in the indie music scene, Arliston have also gained praise from the likes of Wonderland, Earmilk and CLOUT with the latter saying "Arliston have star quality written all over them". Elsewhere, Clash Magazine have lauded the band's music as "beguiling experimental pop", with The 405 applauding their "swirling ambient sensitivity."
Mixed and mastered by Brett Shaw at 123 Studios, the 'Even In The Shade' EP is set to arrive this November as Arliston's signature sound further earmarks the band as dreamy and diaphanous ones to watch.
ARLISTON – RELEASE NEW SINGLE "MOTHERING"
WATCH THE VIDEO HERE || STREAM ON ALL SERVICES HERE
NEW EP 'EVEN IN THE SHADE OUT THIS NOVEMBER
FOR MORE INFORMATION
Website | Instagram | Facebook | YouTube | TikTok | Spotify