SORRY
GOD DAMN EVIL
(Frontiers)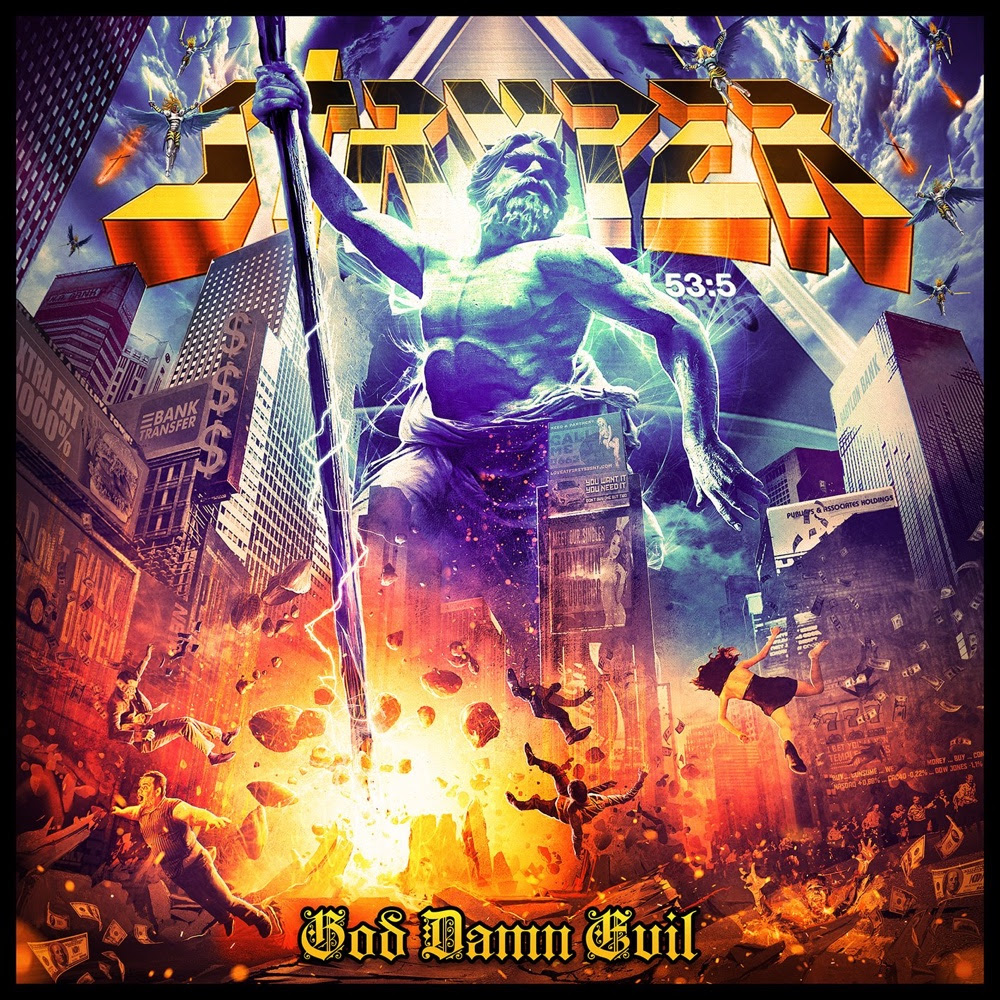 Continuing a trend that began with their 2013 release, 'No More Hell To Pay' is the tenth studio album 
by Stryper and sees the band offering up their heaviest release yet! Opening track (and first single) 
'Take It To The Cross' features a guest appearance from Matt Bachand (Shadows Fall, Act Of
Of Defiance) on death growls (yes, death growls), and immediately demonstrates that Michael Sweet
and co have zero intention of mellowing with age.
The next two songs, the brand new single 'Sorry' and 'Lost', are classic Stryper anthems, but with a 
heaviness and edge that propels the band's sound into the modern age. The title track proves to be
an instant classic and this glorious song will surely be a staple of the band's setlist when they tour.
'You Don't Even Know Me' and 'The Valley' follow, with the latter being a true example of how heavy
doesn't have to equate to 'fast'. Later, 'Can't Live Without Your Love' proves that Sweet can still
write ballad lyrics, while musically taking the form in tasteful new directions.
While only time will tell, 'God Damn Evil' may well turn out to be Stryper's best album yet. As the
Frontiers label said to Michael after he turned in the finished record, "How are you going to top this?"
Fans of the previous two Stryper releases, 'No More Hell To Pay' and 'Fallen', as well as the band's
classic early material, will find much to love here as the group continues to push the envelope of
their musical abilities.
Stryper will headline the first day of the fifth edition of the Frontiers Rock Festival on April 28.
Further information can be found at : frontiersrockfestival.com
'GOD DAMN EVIL' TRACKLISTING:
1. Take It To The Cross 
2. Sorry
3. Lost
4. God Damn Evil
5. You Don't Even Know Me
6. The Valley
7. Sea Of Thieves
8. Beautiful
9. Can't Live Without Your Love
10. Own Up
11. The Devil Doesn't Live Here
STRYPER
ABOUT FRONTIERS MUSIC SRL 
Originally founded in Naples, Italy in 1996 by Serafino Perugino as a distribution company, Frontiers has 
developed into one of the premiere independent rock labels in the world. Synonymous with quality music
across a broad spectrum, the company has worked with genre heavyweights such as DEF LEPPARD, 
WHITESNAKE, JOURNEY, YES, ELECTRIC LIGHT ORCHESTRA, RICK SPRINGFIELD, STRYPER,
WINGER, MR. BIG, NIGHT RANGER and more. Aside from providing a home for classic artists,
Frontiers also boasts a wealth of young, upcoming talent that, coupled with a savvy and forward thinking
A&R and marketing approach, will be developed into the future of rock 'n roll. With millions of records
sold and multiple Top 10 album chart entries around the world, the label has also expanded with offices
in the USA (Nashville) and UK (London). With a deep commitment to and passion for music and the
artists who create it and with massive global distribution, sales and marketing channels,
Frontiers is the home for both established and emerging rock acts.
Subscribe to be alerted when we add new videos 
Follow the 'Newest From Frontiers' playlist on Spotify 
http://rocknloadmag.com/album-review/rocket-dolls-deadhead-album-review/